Whites Surfmaster PI Dual Field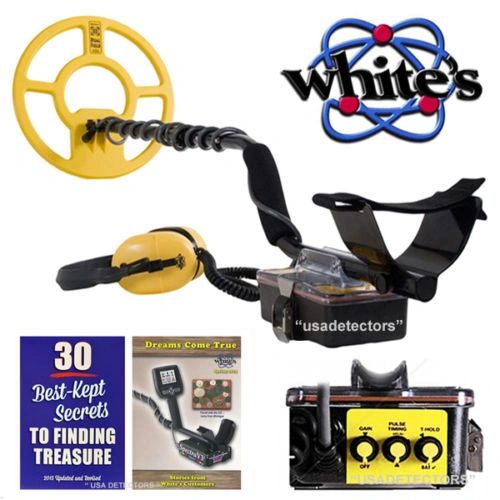 Whites Surfmaster PI Dual Field
The New White's "Surfmaster Dual Field" Metal Detector is Designed for difficult Beach Grounds. The "Surfmaster Dual Field" combines Turn-On-and-Go Ease with the "Extreme" Depth and Sensitivity of Pulse Induction detection. PI technology yields Extreme Depth detection for Coins and Jewelry especially in salt water and mineralized ground.Unlike an induction balance detector, it does not require any ground balance adjustments. Most P.I. instruments must be swept very slowly in order to achieve maximum depth, but the Surfmaster Dual Field, does not. It was designed to have a fast target response, so it can be swept almost as quickly as an Induction Balance (VLF) detector.

The "Surfmaster Dual Field" is Surf-Ready and "Completely Waterproof" to a depth of 100 feet. Its 12" Dual-Field search coil has near neutral buoyancy, so it won't push away from the water or try to sink. Included Piezo headphones are also Completely waterproof.

The Surfmaster Dual Field is Very Sensitive to Gold, even at maximum depths, and makes hunting Easier and Faster with use of the Gain Control and Variable Sweep Speed. The adjustable pulse delay reduces noise from black sand and junk, making targets easier to pick out. The New White' Surfmaster Dual Field Pulse Metal Detector Retails for $899.95 Plus Shipping, You Pay only $823.00 including FREE Shipping ! Also included with your Purchase you will receive 2 FREE White's Guides including: White's 30 Best-Kept Secrets" and "Dreams Come True". "USA DETECTORS" is a White's "AUTHORIZED" Dealer. Purchase with Confidence !
SURFMASTER DUAL FIELD HIGHLIGHTS:
PULSE INDUCTION TECHNOLOGY WITH ADJUSTABLE PULSE DELAY
AUTOMATIC GROUND REJECTION
WATERPROOF TO 100 FEET
NEAR- NEUTRAL LOOP BUOYANCY
QUICK TARGET TECHNOLOGY
ENHANCED SENSITIVITY TO GOLD
TUNER CONTROL USED TO ADJUST THRESHOLD TONE & BATTERY STRENGTH
GAIN CONTROL: ADJUSTS FOR YOUR PARTICULAR BEACH CONDITIONS
12" SEARCH COIL FOR GREATER DEPTH AND GROUND COVERAGE
HARDWIRED WATERPROOF HEADPHONES
SPECIFICATIONS:
ADJUSTABLE LENGTH: 40"- 52"
ALL METAL AUDIO: VCO
AUDIO OUTPUT; WATER PROOF HEADPHONE
BATTERIES: 8 "AA" BATTERIES, "INCLUDED"
BATTERY LIFE: 25 HOURS
FREQUENCY: PULSE INDUCTION
DISC AUDIO: THRESHOLD & SILENT SEARCH
OPTIONAL COILS: " SURFMASTER"
COIL SIZE: 12"
WEIGHT: 8.36 POUNDS
Reviews