Lee Challenger Breech Lock Single Stage Press Kit LEE90030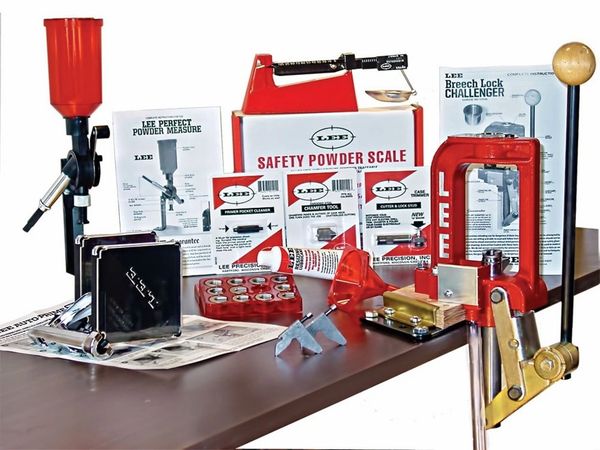 Lee Challenger Breech Lock Single Stage Press Kit LEE90030
Product Information
The Lee Precision Challenger Breech Lock Single Stage Press Kit is a great kit for the beginning reloader or seasoned reloader looking to add to their reloading setup. This kit contains the popular Challenger Breech Lock Single Stage Press which features an "O" frame design and solid construction making this press a great addition to any reloading room. One of the great features of the Challenger Breech Lock Press is the Breech Lock quick change die system that holds dies in inserts that can be quickly removed from the press. Includes one quick change insert. Popular "O" frame design with a 4-1/4" opening that is angled at 30 degrees for maximum hand clearance. The spent primer catcher is effective and easy to empty. Press is made with an ASTM 380 aluminum frame, steel ram and operating linkage. This kit comes with everything to start loading ammunition except for reloading dies, reloading components, and Lee case length gage for trimming brass to the correct length.
Technical Information
Press Type:
Single Stage
Frame Material:
Solid Aluminum
Frame Design:
O Frame
Frame Offset:
30 Degrees
Frame Opening Size:
4-1/4"
Handle Location:
Bottom Right or Left
Die Size Accepted:
Standard 7/8"-14 Threaded Dies
Die Bushing Accepted:
Yes
Die Bushing Brand Used:
Lee Breech Lock Quick Change Bushings
Spent Primer Collection System:
Yes
Ram Stroke:
3-1/2""
Ram Diameter:
.815"
Priming Feature:
Kit includes a hand priming tool
Number of Mounting Holes:
3
Mounting Hardware Included:
No
Kit Includes:
Lee Breech Lock Challenger Single Stage Press
1-Breech Lock Die Bushing
Lee Auto Prime XR
Lee Auto Prime Shellholder Set of 11
Lee Cutter and Lock Stud
Lee Perfect Powder Measure
Lee Chamfer Tool
Lee Primer Pocket Cleaner
Lee Safety Powder Scale
Lee Powder funnel
2 oz Tube Lee Resizing Case Lube
Curious about what else you will need to start reloading with this kit?
We suggest the following; as this kit does
not
include reloading dies, case length gages or shellholders for the Challenger Breech Lock Single Stage Press.
A Lee Case Length Gage for trimming cases
Cartridge specific die set
Shellholder for desired cartridge
Appropriate powder, primers, bullets and cases for your desired cartridge
Reloading Manual
Note:
The Lee Bench plate that is visible in the photograph is not sold with this kit, it is available separately (Product # 113651)
What is the difference between the Anniversary Kit (Item# 423081) and the Challenger Breech Lock Single Stage Press kit (Item# 121744)?
The main difference is the priming feature, the Anniversary kit utilizes a press mounted priming feature, when the Breech Lock Single stage kit utilizes a Lee hand primer and shellholders
Warranty:
Lee 2 Year Unconditional Warranty
Reviews