Spypoint LINK-S VZN LTE Cellular 12MP 42LED HD Video Invisible IR Trail Camera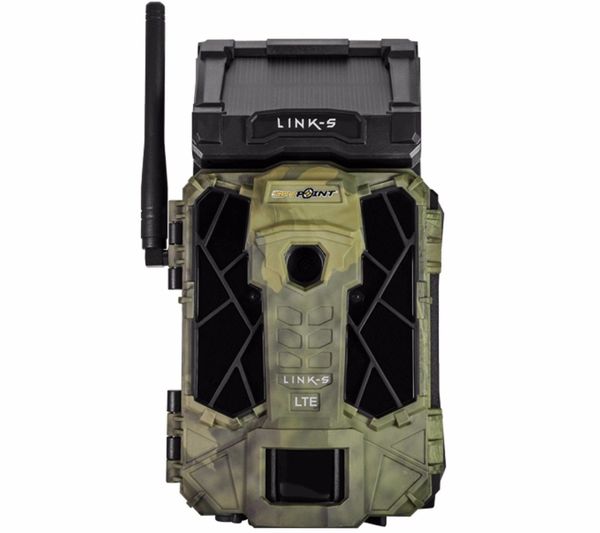 Spypoint LINK-S VZN LTE Cellular 12MP 42LED HD Video Invisible IR Trail Camera
CELLULAR SERIES, Link-S, Camo, Camera Description
LINK-S connected to your passion! You asked, SpyPoint has delivered by combining leading cellular technology with innovative solar panel. Now unlimited power is available on the world leading LINK camera.
The LINK-S trail camera has the easiest activation on the market and comes complete with home to field service by SPYPOINT and is connected to the largest network providers. Manage your account, camera settings and photos through the FREE app.
The camera uses 42 high-power low glow LEDs for great image quality at night and the infrared boost technology allows you to maximise the lighting when it counts. Blur reduction technology will enable you to reduce considerably the blurred effect that might be present on your photos. The photo first option will allow you to take a picture before each video the camera records and send it to your application for viewing.
Features:
- 12MP
- Flash Range 100'
- Trigger Speed: 0.07
- HD
- LTE
- 2" Screen
- Unlimited Power
- Fast Setup
- Preactivated SIM
Includes:
- Camera
- Mounting bracket
- Quick start guide
- SIM card
- 12V-USB cable
- Strap
Specifications:
Cellular/Wireless:
- Frequency: LTE
- Preactivated SIM card included: Yes
- GPS Geotag: Yes
- Photos transmission: Yes
- Camera fully configurable: via the SPYPOINT LINK App
Photo:
- Photo: 12MP
- Flash range: < 100'
- Trigger speed: 0.07 s
- Type of LEDs: Super low glow
- Screen: 2" Viewing screen
- Photo type: Color by day, infrared by night
- Stamp on pictures: Date, time, moon phase and temperature (°C/°F)
- Time-Lapse Mode: Yes
- Multi-shot mode: Up to 3 pictures per detection
- Blur reduction technology: Yes
- Infrared boost technology: Yes
- Continuous mode: Yes
Video:
- Video: HD (720p)
- Sound Recording: Yes
- Photo first (hybrid mode): Yes
Memory/Power:
- Memory card: Requires an SD/SDHC card up to 32 GB (not included)
- Built-In power: Solar pannel
- Built-In power: Internal rechargeable battery
- Power Optional: 8 alkaline AA batteries
- Power Optional: Battery pack LIT-09
- External power: 12V Power jack
Others:
- LEDs: 42 LEDs
- Distance detection sensor: Up to 100 ft
- Automatic infrared level adjustment: Yes
- Motion Sensor: 1 sensor covering 5 zones detection
- Schedule setup: 7 days
- Mount: Standard 1/4"-20 tripod
- Dimensions: 3.8" W x 6.9" H x 3.9"D
Reviews