Smith & Wesson M&P 15TS Upper Assembly 5.56mm NATO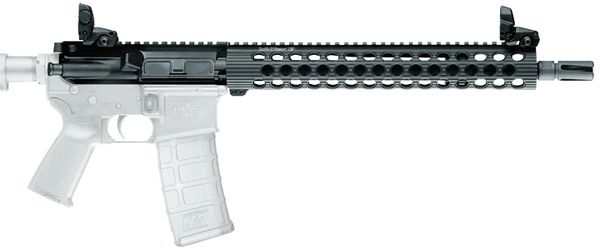 Smith & Wesson M&P 15TS Upper Assembly 5.56mm NATO
Manufactured on the M&P15 modern sporting rifle platform.
14-1/2" Chrome-lined CMV barrel with permanent Smith Vortex flash hider for 16" overall length.
Ensures a complete propellant burn and negligible flash, unlike the standard issue closed-end "bird cage" unit or competing straight-flute designs. Right hand helical flutes will not loosen under sustained fire. The flute configuration is 40% stronger due to greater mass. Accuracy remains the same or improves.
Troy 13" TRX Extreme Handguard
One-Piece, Free Floating Rail, designed for secure installation. Troy TRX rails are custom manufactured from aircraft aluminum and finished in MIL-SPEC Type III hard coat.
New state of the art rotary locking system
Proprietary patent pending one-piece design
Reduced heat transfer
Significant weight reduction
True U.S. Military Specification M1913 rails
Increases target acquisition speed
Free floating design that enhances accuracy
Includes Troy barrel nut
MBUS Front and Rear Sights
Impact resistant polymer provides light weight and resists operational abuse
Spring-loaded flip up sights easily activated from either side or by pressing the top
Chambered in 5.56 mm NATO
Barrel twist rate 1 in 7"
Reviews