SGM Tactical Magazine for Glock 9mm 50 Round Drum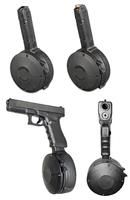 SGM Tactical Magazine for Glock 9mm 50 Round Drum
These are high quality SGM Tactical magazines that will fit Glock handguns and will also fit the following rifles that also take Glock-style 9mm magazines: Kel-Tec Sub 2000 9mm Carbine, Lone Wolf AR-15 Carbine 9mm.
Capacity: 50 Rounds
Fits: Glock 34, 17, 19 & 26 models
Caliber: 9mm
Construction: Polymer/Steel
Made in Korea
This quality drum is constructed from steel and polymer. They will work with all generations of 9mm Glock Pistols including those with ambidextrous magazine releases. This is NOT a Glock OEM Factory magazine.
DISCLAIMER: "GLOCK" is a federally registered trademark of GLOCK, Inc. and is one of many trademarks owned by GLOCK, Inc. or GLOCK Ges.mbH.
Neither Natchez Shooters Supplies nor this site are affiliated in any manner with, or otherwise endorsed by, GLOCK, Inc. or GLOCK Ges.mbH.
The use of "GLOCK" on this page is merely to advertise the sale of GLOCK pistols, parts, or components. For genuine GLOCK, Inc. and GLOCK Ges.mbH products and parts visit www.glock.com.
Reviews