RCBS Reloader Special-5 Explorer Plus Single Stage Press Kit II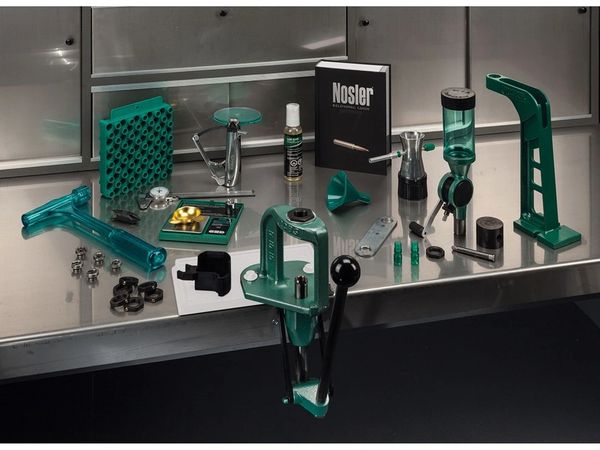 RCBS Reloader Special-5 Explorer Plus Single Stage Press Kit II
Product Information
The RCBS has been producing high-quality reloading tools for beginning and advanced reloaders for over 60 years. One of the most difficult thing about reloading is figuring out what equipment is needed to make accurate, reliable reloads. RCBS has taken that guess work out of the equation with their Explorer Plus Reloading Kit. This kit is compiled with some of the most important tools and equipment that reloaders need with RCBS donating a portion of each proceed going to youth hunting and shooting programs.
So what is included with the Explorer Plus Reloading Kit? This kit includes all of the following items:
Reloader Special-5 Single Stage Reloading Press, this press features 3-3/4" hand clearance, 30 degree opening offset, primer arm and the ability to be converted to a progressive press in the future
Uniflow Powder Measure throws consistent, accurate charges uniformly from the measuring cylinder into the cartridge case. Charges are easy to change from charge to charge without having to empty the hopper. The measuring cylinder is precision ground and slides into a precision honed main casting for a tight fit. 100 grain charging capacity. Standard 7/8"-14 threads, includes a stand plate which is drilled for mounting on a bench or under a die lock ring. Comes with two drop tubes for 22 caliber and up.
1,500 Grain Digital Pocket Scale, 1500 grain capacity, +/- 0.1 grain accuracy, Tare, mode and on/off key functions. LCD readout with blue backlight. Displays in grains, grams, ounces, carats and DWT, Automatically turns off after 5 minutes of inactivity to save battery life. Ships with two AAA batteries a scale pan, check weight and has a limited one year warranty.
Nosler 7th Edition Reloading Manual, which is the latest most extensive Nosler manual to date. It contains 864 pages of information on favorite classic cartridges and popular new calibers like the 300 AAC Blackout, 17 Fireball, 308 Marlin Express, 6.5 Creedmoor, 6.5 Grendel, 30 T/C and many more. Also includes data for Nosler's latest bullet lines and detailed step-by-step explanations of the reloading sequence perfect for the novice and experience reloader.
Hand Priming Tool, which features a patented safety mechanism that separates the seating operation from the primer supply. This virtually eliminates the possibility of a tray detonation. Comes with large and small primer plugs. Tool can hold 100 primers.
Universal Case Loading Block, double-sided design that has 25 holes on each side for loading a variety of calibers.
Deburring Tool, that quickly and easily chamfers and deburrs case mouths. Just insert the pointed end into the case mouth and a few twists of the wrist a nice chamfer will be created, film the toll around and use the same process to remove any exterior burrs from the case mouth.
Powder Funnel, fits cases from 22 to 45 caliber with a specially designed drop tube that helps to avoid messy powder spills around the case mouth while the non-stick, anti-static surface prevents powder from sticking to the sides.
Case Slick Spray Lube, flows easily over the surface of brass providing uniform coverage helping eliminate the possibility of denting case shoulders.
Powder Trickler-2, Great tool for any reloader looking to trickle that final amount of powder into their powder pan to get the perfect weight charge. Designed specifically to work with electronic scales. Also features and adjustable height, non-skid base and powder tube extension.
Advanced Powder Measure Stand, made from cast aluminum is used designed to elevate any standard 7/8"-14 powder measure above the reloading bench for a better view of the powder dispensing process (Stand is not threaded, the powder measure is held in place with die lock rings)
Pow'r Pull Bullet Puller, this impact bullet puller is made from a solid one piece body, innovative 3-jaw chuck that grips the case rim. To pull bullets the tool needs to be tapped on a solid surface (like a hammer), until the bullet separates from the case. Will work with most centerfire cartridges from 5.7x28mm FN to Remington Ultra Magnum family of cartridges.
Stainless Steel Dial Caliper, excellent tool for taking accurate measurements. Constructed from stainless steel with an easy to read dial. Each revolution of the dial is 0.100" with a range of 0-6"
Small Uniflow Measuring Cylinder, the small measuring chamber is used for reloaders needing to throw small powder charges. Will throw charges between 0 and 50 grains.
Sixe die lock rings, are constructed from steel and allows the reloader to setup dies and lock the settings in place so when removed and reinstalled dies do not have to be recalibrated. (Fit standard 7/8"-14 threaded dies)
Number 2, 3, 4, 10 and 43 Shellholders, shellholders are made from high-quality steel and fit virtually any single stage reloading press. These five shellholders are the holders that fit the most popular reloading calibers, specific fit information can be found in the link below or by consulting our Master Catalog or calling our friendly customer service line for assistance.
Technical InformationPress Type:
Single Stage
Frame Material:
High Strength Aircraft Aluminum
Frame Design:
O-Frame
Frame Offset:
30 degrees
Frame Opening Size:
3-3/4"
Handle Location:
Center
Die Size Accepted:
Standard 7/8"-14 threaded die
Die Bushing Accepted:
No
Die Bushing Brand Used:
N/A
Spent Primer Collection System:
Yes
Ram Stroke: Ram Diameter: Priming Feature:
Priming Arm with both large and small primer cups
Number of Mounting Holes: Mounting Hardware Included:
No
Additional Features: Warranty:
Lifetime warranty for the home reloader, warranty does not cover equipment used for commercial purposes.
Notes:
May be upgraded to a progressive loader with the addition of the Piggyback-3 Conversion Unit (sold separately)
Reviews