Nikon Prostaff 7i Laser Rangefinder 16209 Nikon Rangefinder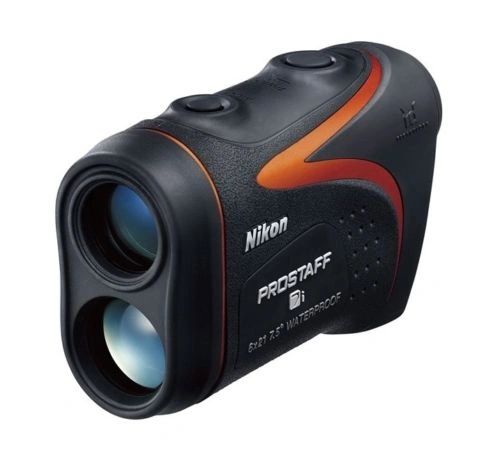 Nikon Prostaff 7i Laser Rangefinder 16209 Nikon Rangefinder
State-of-the-Art Laser Rangefinder Technology PROSTAFF 7i Laser Rangefinder
The PROSTAFF 7i Laser Rangefinder 6x21 is a pocket-sized tool that utilizes Nikon's ID (incline/decline) Technology and provides precision, speed and consistency out to 1300 yards. It also features Nikon's legendary multicoated optics, waterproof/fogproof ruggedness, pocket-sized portability, long eye relief and Tru-Target Technology.
ID (Incline/Decline) Technology
Nikon's advanced ID Technology provides the horizontal distance to the target, even when ranging at various incline or decline shooting angles—up to an incredible +/- 89 degrees (nearly vertical up or down).
Consistency When It Matters
The new PROSTAFF 7i Rangefinder gets you on target with precision, speed and consistency—a necessity to effectively use Nikon's BDC reticles and Spot On Ballistic Match Technology.
Large Ocular Lens
The large 18mm ocular provides a faster view when seconds count.
Easy-To-View Display
The uncluttered screen displays ranges with Nikon's trademark speed and accuracy in .1-yard intervals.
Ultra-Compact Size
The PROSTAFF 7i Rangefinder conveniently fits in a pocket or a pack, and can be worn on a belt without interfering with your shot. Comfortable to carry and use all day long in any of the toughest situations your hunt can present.
Single Button Operation
For fast, easy measurements, the single button operation of the PROSTAFF 7i Rangefinder is simple to use and automatically powers down after 8 seconds to reduce battery use.
Specs:
Nikon's ID (Incline/Decline) technology.
6 x 21.
8-1300 yard ranging capacity.
Displays in 1-yard increments to 1000 yards.
Long eye relief.
Single or continuous measurement.
Hyper Read - for quick and stable measurement response regardless of distance.
Wide field of view (75 degress).
Large ocular for easy viewing (18mm).
Waterproof battery chamber and water resistant.
Reviews