MOUNTAIN HOUSE JUST IN CASE... ESSENTIAL BUCKET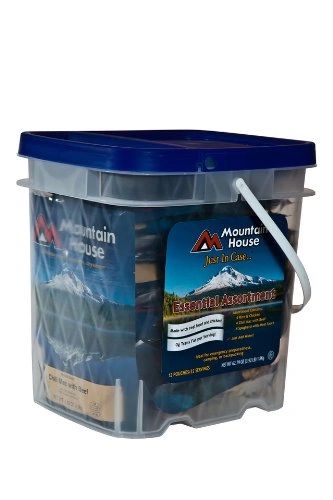 MOUNTAIN HOUSE JUST IN CASE... ESSENTIAL BUCKET
Assortment contains 12 pouches per bucket: 4- Rice and Chicken, 4- Chili Mac, 4 Spaghetti

Just Add Water. Plan Easier. Travel Lighter. Eat Heartier.

32 servings

Allergens: Soy, Milk, Wheat

12+ year taste guarantee
Mountain House "Just in Case…" Essential Assortment
With 12 total meals, this bucket has enough food to feed a person for 3.5 days.* Each Mountain House "Just in Case…" Essential Assortment contains the following essential Mountain House meals:
● 4x Rice & Chicken
● 4x Chili Mac with Beef
● 4x Spaghetti with Meat Sauce
Every pouch in every stackable and portable Mountain House "Just in Case…" bucket assortments has a proven 12+ year shelf life, so it is good to have on hand just in case of an emergency or for when you may need to feed a large audience.
● 24 Total Cups of Water Required
● Contains 32 Servings
*Based on USDA recommended diet of 2,000 calories/day
Who is Mountain House?
For nearly 50 years, Mountain House adventure meals have consistently been the premier choice of campers, backpackers, and survival experts. Born out of freeze dried meals we make for the United States Special Forces, Mountain House food has proven history of reliability and most importantly, delicious flavor.
With just-add-water preparation and no-mess cleanup, Mountain House is the perfect camping food or backpacking food. And with our unique packaging technology our delicious meals have a 12+ year shelf-life - making them the perfect emergency preparedness or survival food.
From the bottom of the deepest ocean, to the tops of the tallest mountains, to the battlefield and back, Mountain House is the food people trust when failure is not an option. Consistently chosen as the best tasting food among outdoor and survival brands, Mountain House is the best camping, backpacking and survival food money can buy.
Reviews