Mountain House Breakfast Pouch - (SELECT)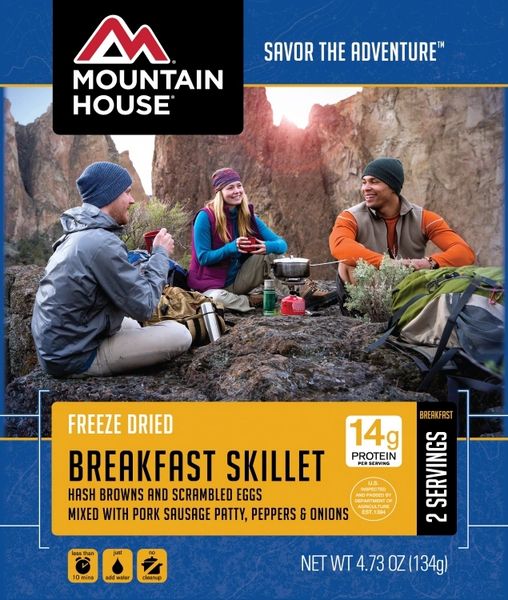 Mountain House Breakfast Pouch - (SELECT)
Secrets Behind Mountain House
It's not just our chefs that have helped make Mountain House the #1 choice in freeze dried adventure meals for the last 5 decades. Our food has these distinct advantages over other options:
Simple to Prepare
Mountain House food is easy to make. Simply open the pouch or #10 can, add hot water and stir. In just 8-10 minutes you'll have a hot, hearty meal you can enjoy anytime, anywhere! Because you can prepare our meals in the pouch or can, cleanup is a snap. No mess!
Best Tasting Freeze Dried Food
Mountain House meals taste home-cooked because we prepared them the same way you do. We mix our ingredients together in a (very large) pot and cook them like you do at home!
Longest Proven Shelf Life. Period.
A pouch of Mountain House that you buy today will taste fresh on the trail today or on your table a decade from now. Mountain House food is good for 12+ years in pouches and 25+ years in cans. When we say our food is good, we mean it will be virtually indistinguishable from new production as opposed to will sustain life. We add the "+" because we know our food will probably be good for much longer than indicated if stored in proper conditions.
Mountain House is the Food the Experts Trust
From the bottom of the deepest oceans, to the tops of the tallest mountains, to the battlefield to the poles and back, Mountain House has fed people in every climate and condition. Our food is delicious no matter where you are. Mountain House is great as camping food, survival food, or an everyday meal. Also great as an MRE alternative, Mountain house should be on any camping or survival gear checklist.
Reviews