Moultrie Game Spy M-880 Low Glow Infrared Digital Trail Game Camera 8 MP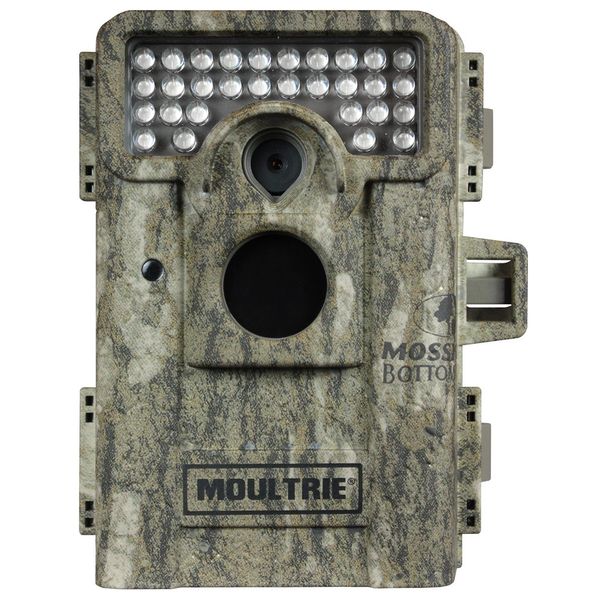 Moultrie Game Spy M-880 Low Glow Infrared Digital Trail Game Camera 8 MP
Don't let its small size fool you. The M-880 packs a powerful punch out in the field, giving you incredible size, scale, and scope on capturing images of wild game while in the wild. It's Moultrie's first game camera to offer a 16:9 aspect ratio and 8.0 Megapixel images, allowing the M-880 to capture Hi-def black and white images of even your biggest game when they least expect it.
TIMELAPSE MODE
Time lapse mode disables the PIR sensor and instead triggers the camera through a countdown timer. The timelapse mode can be set for 1 or 2 different periods per day (e.g. - 4 hours each dawn and 3 hours at dusk). You can set the duration of the timelapse period and also adjust the Timelapse Interval between each image capture. Longer intervals capture fewer images and shorter intervals capture more images. The M-880 allows for 13 different interval settings, lasting from as little as 10 seconds to as long as 24 hours.
HYBRID MODE
In Hybrid Mode, the camera follows a Timelapse Program, but will also be triggered by its passive infrared (PIR) motion sensor.
NIGHT OPERATION
This 850nm Low-Glow flash uses a powerful infrared technology that can illuminate objects at night up to an amazing 100 feet away. Barely visible to the naked eye, the flash is powered by 32 Light Emitting Diodes (LEDs) operating in the 850nm wavelength. The LEDs have two settings: Motion Freeze will reduce motion blur and deliver sharper photos or set to Extended Flash to maximize flash distance.
PHOTO RESOLUTION
The M-880 has a high quality lens with a 50-degree horizontal field of view. The M-880 allows for multiple Photo Resolutions settings to help you manage storage and image quality. All photos are captured in 16:9 aspect ratio (the same as modern high-def televisions).
VIDEO RESOLUTION
The M-880 captures video in 16:9 aspect ratio and offers two Video Resolutions.
CASE FEATURES
The game camera has plenty of mounting options. There are standard 1/4"-20 tripod mounts on bottom and back, plus strap slots on back for use with included nylon mounting strap. Side of case also features a python lock compatible hasp for additional security.
MEMORY IMAGE AND STORAGE
The M-880 is compatible with SD/SDHC Class 4 cards or higher, up to 32 GB size. (Memory cards are sold separately.) The camera is also compatible with the Eye-Fi branded WiFi SD Cards, which allows the camera to transmit images to a Wi-Fi network and the internet. Moultrie recommends (but does not support) the "X2" series of cards from Eye-Fi.
The M-880 has an exciting new "Managed Memory" feature which prevents the camera from running out of memory. When set to "Overwrite Oldest," the M-880 will erase the oldest photos and videos to create free space for new photos and videos when the memory card is at full capacity. Or if you want to keep all of your old images, you can also set the camera "Normal" and it will stop recording new images when the SD card memory is full.
INCLUDED IN THE BOX
M-880 Game Camera
1" x 4" olive drab mounting strap
User Guide in English, French and German
Moultrie brand window decal
Reviews