Moultrie A-20i Mini Game Camera With iNVISIBLE infrared (940 nm) - 12MP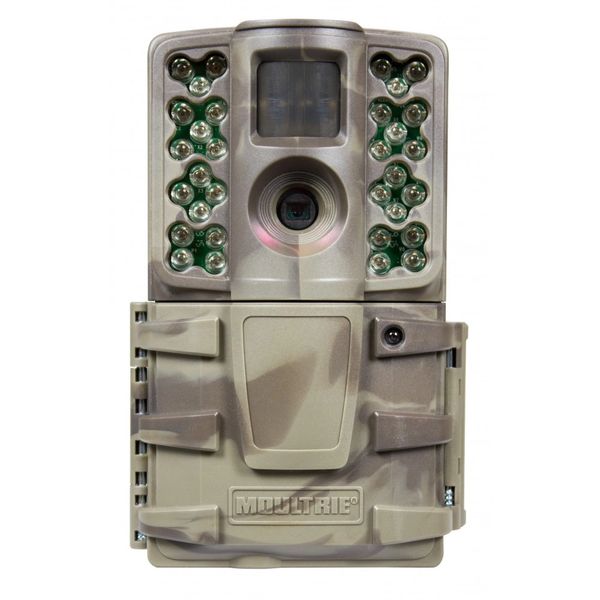 Moultrie A-20i Mini Game Camera With iNVISIBLE infrared (940 nm) - 12MP
Have it all with the new A-20i, Moultrie's next-generation iNVISIBLE flash camera based on its best-selling A-5. Boasting performance and design upgrades over the A-5 including enhanced resolution and a smaller profile, the A-20i is equipped with 36 iNVISIBLE infrared LEDs that allow you to covertly capture game on the move within 50 feet. Powered by AA batteries, this compact yet rugged powerhouse also takes crisp, vibrant color images during the day and features a weather-resistant exterior, easy-to-use interface and LCD screen - all at an extremely attractive price point that makes outfitting your entire property possible. Even better, the A20i is backed by Moultrie's industry-leading 2-year warranty.
iNVISIBLE INFRARED FLASH - A flash equipped with 36 iNVISIBLE infrared LEDs illuminates game up to 50 feet away in total darkness, without giving away the camera's position.
PHOTO & VIDEO RESOLUTION - Manage image quality and storage with 2 resolution settings, low (1600x1200px) and high (4000x3000px), and capture 4:3 aspect ratio video in 480px.
SPECIAL FEATURES - Multi-shot and single-image modes offer hunters customizability.
EXTERIOR - A sturdy case with a weatherproof plastic exterior comes with standard 1/4"-20 bottom tripod mounts and back slots for use with an included nylon strap or Python lock cable (sold separately) for tree mounting. A Python lock-compatible clasp offers added security.
MEMORY CARD COMPATIBILITY - Works with SD/SDHC Class 4 cards or higher and can handle up to 32 GB. Memory cards sold separately.
BATTERY LIFE - Requires 8 AA batteries. Captures approximately 16,000 images. Actual results may vary. Use lithium batteries for extended battery life in harsh weather conditions.
OTHER POWER SOURCES - Compatible with any Moultrie 12V DC external power source. Camera also supports AC power mode.
Reviews