MOULTRIE 30 Gallon Classic Photocell Tripod Deer Feeder w/6V Battery & Charger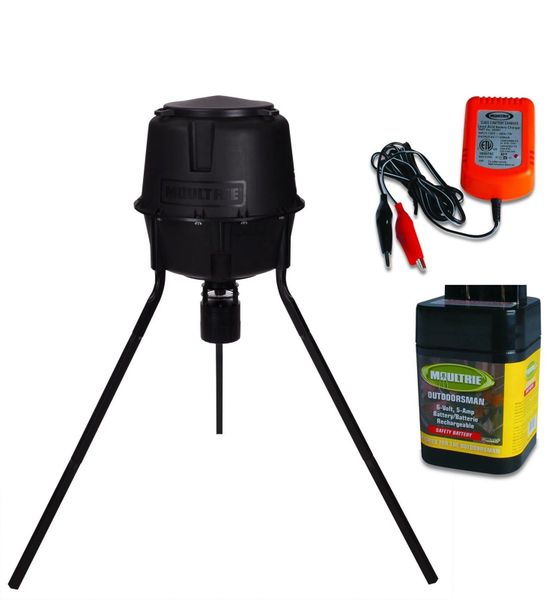 MOULTRIE 30 Gallon Classic Photocell Tripod Deer Feeder w/6V Battery & Charger
Package Includes:
(1) Moultrie 30 Gallon Classic Tripod Feeder
(1) Moultrie 6 Volt Rechargeable Feeder Battery
(1) Moultrie 6 Volt Battery Charger
The Deer Feeder Classic keeps feeding simple, reliable and economical. Thanks to Moultrie's exclusive Quick-Lock modular technology, interchangeable with all Moultrie feeder kits, assembly has never been easier. Just insert the Quick-Lock hopper into the kit and twist! Made from durable, UV-resistant plastic, the hopper has a fill height of 5.5 feet for easy ground-level access. A dusk setting programmable up to 30 minutes before sunset offers flexibility in patterning deer to your schedule.
Dawn and dusk photocell timer programs up to 2 feed times per day, 4 to 16 seconds each
Plastic Quick-Lock hopper with a fill height of 5.5 feet offers easy tool-free assembly
Plastic spin plate, funnel and housing; built-in varmint guard, feed-level estimator, battery indicator, external power port
Square locking legs for added stability
One (1) 6-volt battery required
The Moultrie 6-Volt Battery Charger is a necessary accessory with any feeder or camera battery purchase. The charger's light will change color when the attached battery reaches a full charge, and the trickle-charge feature will ensure that your batteries won't over charge.
Trickle-charge maintains battery life
Light changes to show battery charge level
6-volt charger output
When working in the great outdoors, you need to rely on equipment that functions consistently. Ensure the effective and ongoing operation of your automatic deer feeder with the Moultrie 6V Rechargeable Battery with a Safety Top. Compatible with all 6-volt operated feeders, the Moultrie 6V Rechargeable Battery supplies a trickle charge that prevents short-circuiting. This battery is rechargeable and is completely reliable.
This sealed lead acid 6V battery is a great source of convenient and economical energy for the outdoors. Keep your feeders up and running on schedule. The addition of a moultrie 6V solar panel to your game feeder system significantly reduce feeder downtime and increase your functionality and feeder productivity. The battery is sold discharged and must be charged completely, before first-time use for optimal performance.
Rechargeable
Sealed, lead-acid 6V 5 amp battery
Ensures an effective and ongoing feeder
Reviews