Mako Group Vertical Foregrips with Incorporated Bipod and 1" Flashlight Adaptor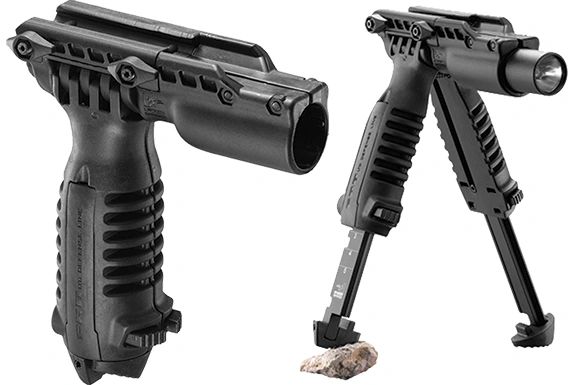 Mako Group Vertical Foregrips with Incorporated Bipod and 1" Flashlight Adaptor
• The only fully functional bipod designed for precision shooting built into a vertical foregrip.
• Built for designated marksmen and those operating in urban settings who need to transition from close fighting to precision shooting.
• Integrates a foregrip, bipod, and button-activated light mount for any 1" light with a tailcap switch.
• An ergonomic foregrip based on our popular TAL-4 grip.
• A touch of a button transforms the grip into a sturdy bipod.
• Legs are independently adjustable for height.
• Bipod allows slight pivot to adjust cant.
• Wide stance offers stability lacking in other grip bipod designs.
• Dual pressure switch cavities.
• Mounts with captive quick-release wingnuts.
• Aviation-grade Aluminum, steel, and MIL-SPEC reinforced polymer composite.
Reviews