Mako Group Remington 870/AR-15/M4 Folding Collapsible Buttstock with Shock Absorber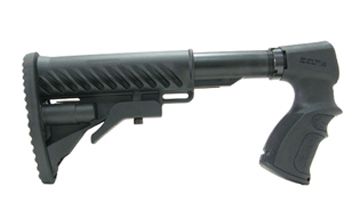 Mako Group Remington 870/AR-15/M4 Folding Collapsible Buttstock with Shock Absorber
PISTOL GRIP FEATURES:
• Rock solid one piece ergonomic design.
• Non slip special texturing.
• Made from composite materials.
• Natural Fighting stance hold on your shotgun - Slightly angled to counter recoil.
• Improved performance in reaction, on target time and muzzle control during fire.
• No gunsmith is required.
• Has storage compartment for batteries, cleaning kit...
TACTICAL STOCK AND SHOCK ABSORBER FEATURES:
• Tough and robust design.
• M4 style aluminum buffer tube and our famous GLR-16 butt stock.
• Unique Shock Absorber Mechanism.

TACTICAL FOLDING JOINT FEATURES:
• Tough and robust design.
• Push button to release locking when open.
• Spring lock on folded position, pull to open and lock from folded position.
• Can be mounted to fold left side or right side.
Reviews