Lyman Universal Trimmer Power Pack with Case Trimmer Kit, Power Adapter and 9 Pilots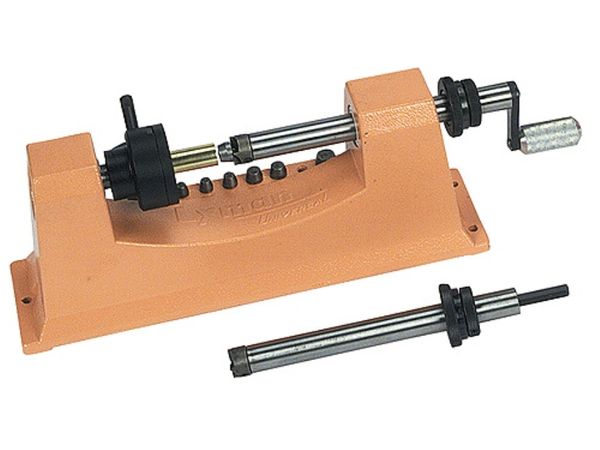 Lyman Universal Trimmer Power Pack with Case Trimmer Kit, Power Adapter and 9 Pilots
Metallic cases stretch as a result of both the firing process and the subsequent resizing process. When your cases reach a certain dimension, the original case length must be restored through trimming. The Lyman Universal Case Trimmer features the patented Lyman Universal Chuckhead which allows the reloader to quickly lock and unlock a cartridge case and handles any case from .17 caliber to the 458 Winchester Magnum without the need for costly collets. Other features of the Lyman Universal Trimmer include an adjustment ring that allows you to dial in the approximate trimmer setting for ease of repeatability, fine and course length adjustments.

Technical Information:

Features: Fine and course case length adjustments, power adapter included.
Collets Used: None
Collets Included: N/A
Pilots Used: Lyman
Pilots Included: 22, 24, 27, 28, 30, 9mm, 35, 44, 45A
Pilots Included:
#22 for .22 Hornet, .22/250, .220 Swift, .222 Remington, .222 Remington Magnum, .223 Remington, 5.6x50R Magnum.
#24 for .243 Winchester, .244, 6mm Remington.
#27 for .270 Winchester.
#28 for 7mm/08 Remington, 7-30 Waters, 7mm Remington Magnum, 7mm Weatherby Magnum, &mm STW, 7x57 Mauser, 7x64 Brenneke, .280 Remington (7mm Express), 7mm TCU.
#30 for .30 Luger, .30 Mauser, 30M1 Carbine, .30-30, .300 Savage, .307 Winchester, .308 Winchester, .30-06, .300 Winchester Magnum, .300 Remington Ultra Magnum, .300 Weatherby Magnum, 7.62x39.
#9MM for .38 Super Auto, 9mm Luger, 9x23mm, .380 Auto.
#35 for .38 S&W, .38 Special, .357 Magnum, .357 Remington Maximum, .35 Remington, .356 Winchester, .358 Winchester, .35 Whelen.
#44 for .44 Magnum, .44 Special, .44 Russian, .444 Marlin.
#45A for .45 ACP, .45 Winchester Magnum, .45 Schofield, .45 Colt, .454 Casull.
Features: Uses the Lyman Universal Chuckhead to hold cases so no collets are required.
Notes:Needs standard electric hand drill or power screwdriver for operation.
Reviews