Lee Pro 1000 Progressive Press Kit (SELECT CALIBER)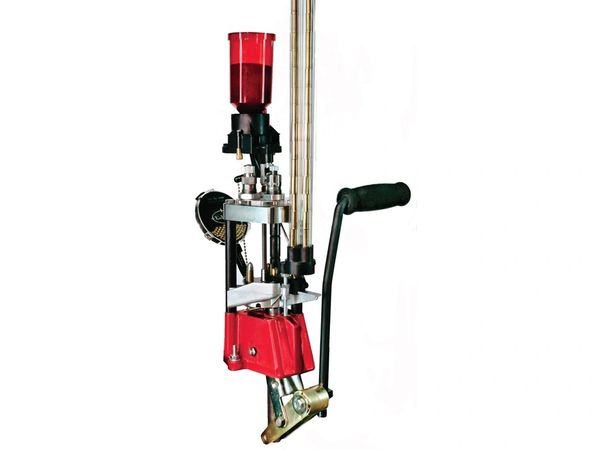 Lee Pro 1000 Progressive Press Kit (SELECT CALIBER)
The Lee Pro 1000 Progressive Press is a great press for beginning reloaders or seasoned veterans. Just add a bullet and load a cartridge with each pull of the lever - all other operations are automatic. For added safety, primers and powder are fed only if a case is present. For fine adjustments or for experimenting, an alternate loading sequence allows for loading only one case at a time. Makes learning easy for the first time user. Turrets sold separately.

Warning: Lee recommends to only use CCI or Remington primers. Other primers will not safely work in this priming system.

Technical Information

Press Type: Progressive Press
Auto Index: Yes
Number of Stations: 3
Frame Material: Steel, Cast Aluminum and Polymer
Frame Design:
Frame Offset:
Frame Opening Size:
Handle Location: Bottom Right or Left
Die Size Accepted: 7/8"-14 Threaded Dies
Die Bushing Accepted: No
Die Bushing Brand Used: N/A, Utilizes 3 Hole Turrets (Comes with 1)
Spent Primer Collection System:
Ram Stroke: 3-1/2"
Ram Diameter: N/A
Priming Feature: Uses the Lee Pro 1000 Primer Attachment
Number of Mounting Holes: 3
Mounting Hardware Included: No
Kit Includes:

Caliber specific die set: Carbide 3-Die sets
Pro Auto-Disk Powder Measure with 4 disks
Pro 1000 Primer attachment
Case Feeder attachment with tubes
Appropriate Shell plate
Additional Features:
Comes with the roller handle upgrade
Easily Changed over to other calibers
There are numerous upgrades available for this kit to increase productivity
For reloaders looking to reload more than one caliber this press is easily changed over. All that is needed is an extra turret and the appropriate shell plate carrier (sold separately), some cartridges might require the Lee Auto-Disk Powder Measure Double Disk Kit (Item# 870920)
Warranty:
2 year Unconditional Guarantee
Notes:
Please note that the Pro Auto-Disk powder measure (included as part of the kit) will only work with Lee powder-through expanding dies.
Reviews