Lee Loadmaster Progressive Press 9mm - 45 ACP - 40 S&W - EVERYTHING TO LOAD ALL 3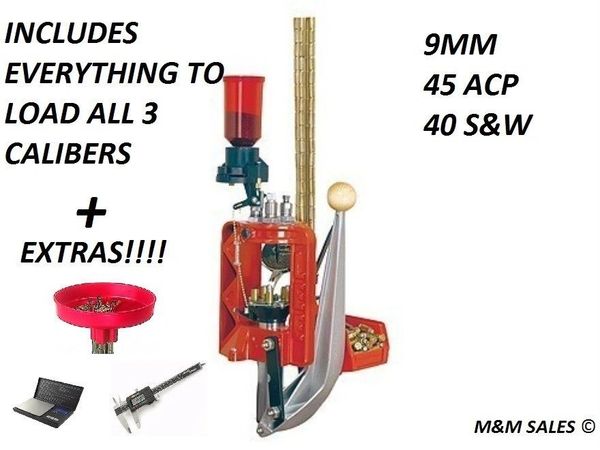 Lee Loadmaster Progressive Press 9mm - 45 ACP - 40 S&W - EVERYTHING TO LOAD ALL 3
IMAGINE THE TIME IT WOULD TAKE TO FIND ALL OF THIS IN STOCK - ALL THE SHIPPING CHARGES - ALL THE SEARCHING AND HASSLE - WITH ONE CLICK YOU GET EVERYTHING LITERALLY EVERYTHING YOU NEED TO START RELOADING 9MM, 45 ACP, AND 40 S&W
CALL 910-284-1155 AND GET ALL YOUR QUESTIONS ANSWERED INSTANTLY
THE PRESS WILL COME SETUP FOR 9MM AND WE INCLUDE ALL OF THE COMPONENTS AND DIES TO CONVERT OVER TO BOTH 223 AND 45 ACP. WE WILL SET THE DIES UP IN THE TURRET TO EXACTLY WHERE THEY NEED TO BE, SAVING YOU THE TIME AND HASSLE AND MAKING SWITCHING CALIBERS A BREEZE.
WE INCLUDE EVERY COMPONENT THAT YOU NEED TO DO ALL 3 CALIBERS - NOTHING IS LEFT OUT - WE HAVE BEEN USING AND SELLING THESE PRESSES FOR OVER 25 YEARS- IF YOU HAVE ANY QUESTIONS FEEL FREE TO CALL BEFORE OR AFTER THE PURCHASE FOR QUESTIONS/PROBLEMS/CONCERNS
WE CAN ALSO MAKE ANY KIT CUSTOM FOR YOU AND WHAT CALIBERS YOU WOULD LIKE TO RELOAD - JUST CALL 910-284-1155 FOR SETTING UP EXACTLY WHAT YOU WOULD LIKE
KEEP IN MIND THIS IS A FULLY PROGRESSIVE PRESS - EVERY TIME YOU PULL THE HANDLE YOU ARE CRANKING OUT A NEW ROUND - SAVE MONEY AND TIME SEARCHING FOR AMMO AND SPEND IT RELOADING AND ON THE RANGE
HORNADY, RCBC, DILLON WOULD LITERALLY COST YOU THOUSANDS TO GET WHATS INCLUDED HERE FOR THESE CALIBERS
WHAT YOU WILL RECEIVE:
LEE LOADMASTER COMPLETE KIT SETUP FOR 9MM
LEE 45 ACP 3 DIE SET
LEE 40 S&W DIE SET
2 EXTRA 5 HOLE TURRETS FOR 45 ACP AND 40 S&W DIES
LEE SHELLPLATE #19 (FOR 40 S&W)
LEE SHELLPLATE #2 (FOR 45 ACP)
LEE LARGE CASE FEEDER AND TUBES (FOR 45 ACP)
LEE LARGE PRIMER TROUGH (FOR 45 ACP) NOTE* COMES WITH SMALL FOR 9MM AND ALSO WORKS WITH 40 S&W
LEE CASE COLLATOR
DIGITAL CALIPERS
DIGITAL SCALE
SETUP OF ALL THE DIES = PRICELESS

YOU WILL RECEIVE EVERYTHING YOU NEED TO RELOAD ALL IN ONE KIT, EVERYTHING IN STOCK READY TO SHIP
THE PRESS WILL COME SETUP READY TO RELOAD - OTHER THAN SETTING UP THE POWDER MEASURE TO YOUR LIKING, ADJUSTING THE BULLET SEATING DEPTH TO YOUR LIKING, AND PUTTING THE TURRET HOLDING THE DIES ON THE PRESS YOU WILL NOT NEED TO DO ANYTHING ELSE!
Our experience with Lee customer service has been a truly great experience from day one; they have some of the best customer service representatives and are VERY knowledgeable especially on the Lee Pro 1000. If you ever have any types of problems or just have general reloading questions you can always get through to a representative at Lee, unlike many other companies you may be on hold for an hour. Also they have great how to videos on their website, they are short clips that show you how to do everything imaginable on this Lee Pro 1000 from changing calibers, setting up dies, cleaning the press, changing the shellplate (if desired), literally everything. WE ALSO OFFER 24 HOUR CUSTOMER SUPPORT - CLICK THE "CONTACT US" LINK
------------------------------------------------------------------------------------------------------------------------------------------------------------------------------------------------------------------------------------------
Product Information
The Lee Loadmaster Progressive Press reloads both rifle and handgun cartridges with ease and enough clearance for even the largest magnum rifle cases. It can be used as an automatic indexing progressive press or as a single stage press, and its five stations accept most popular reloading dies. Dies are held by a detachable turret that allows them to be removed and reinserted without adjusting.

Technical Information

Press Type: Progressive Press
Auto Index: Yes
Number of Stations: 5
Frame Material: Steel, Cast Aluminum and Polymer
Frame Design: O-Frame
Frame Offset:
Frame Opening Size:
Handle Location: Bottom Right
Die Size Accepted: 7/8"-14 Threaded Dies
Die Bushing Accepted: Utilizes removable Lee 5 Station Turrets
Die Bushing Brand Used: N/A
Spent Primer Collection System: Built-In
Ram Stroke: 3-3/4"
Ram Diameter: 1-3/4"
Priming Feature: Lee Load-Master Progressive Primer Feeder
Number of Mounting Holes: 3
Mounting Hardware Included: No
Kit Includes: Carbide 3-Die Set (Full Length Sizer Die, Powder-Through Expander and Bullet Seating Die) Pro Auto-Disk Powder Measure, Case Feeder, Loaded Round Ejector, Case Catch Bin, Shellplate
Additional Features:
Warranty: 2 Year Unconditional Guarantee
Notes:

Lee warns that only CCI or Remington brand primers should be used with this reloading press. If you plan on reloading with any other brand of primers you must purchase the explosion shield (part# 5338680
Product information on calipers:

This is a quality stainless steel 6 in. digital caliper with extra large digital display plus molded case. It will measure .001 to 6 in. or .01mm to 150mm. Also calibrates to zero, converts SAE & METRIC with a touch of a button, it has a locking screw, measures inside&outside, thumb roller, step measuring surface and a knife shaped measuring surface. The high quality caliper can be used every day by professionals.

Product information on sales:

The AMW Series is a great durable and compact pocket scale for those seeking an on-the-go high-tech portable scale. The backlit LCD display helps make the numbers viewable and easy to read. The intuitive protective cover provides protection for the scale and the smooth stainless steel weighing surface makes clean up easy.
Reviews