Lee Challenger Breech Lock Single Stage Press Anniversary Kit LEE90050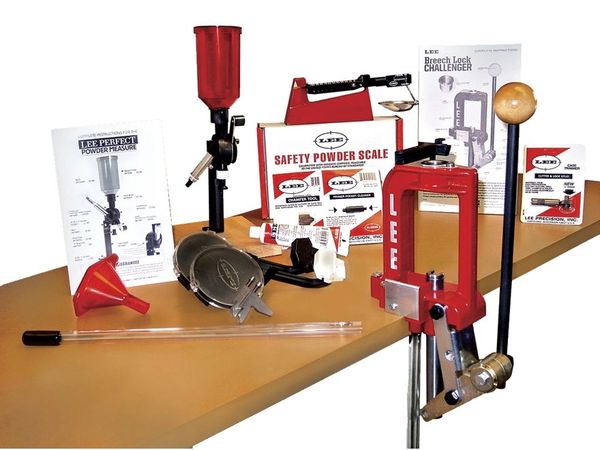 Lee Challenger Breech Lock Single Stage Press Anniversary Kit LEE90050
Product Information
This kit has just about everything needed to get started reloading. The "O" frame design creates a sturdy press for years and years of reloading. The quick change function allows standard 7/8"-14 threaded dies to be changed with the twist of a wrist. The press is made from ASTM 380 Aluminum, has 3-offset mounting holes, a 3-1/2" ram stroke and can handle cartridge lengths from the short 0.905" 25 ACP to the long 3.750" 460 Weatherby
Technical Information
Press Type:
Single Stage
Frame Material:
Solid Aluminum
Frame Design:
O Frame
Frame Offset:
30 Degrees
Frame Opening Size:
4-1/4"
Handle Location:
Bottom Right or Left
Die Size Accepted:
Standard 7/8"-14 Threaded Dies
Die Bushing Accepted:
Yes
Die Bushing Brand Used:
Lee Breech Lock Quick Change Bushings
Spent Primer Collection System:
Yes
Ram Stroke:
3-1/2""
Ram Diameter:
.815"
Priming Feature:
Yes
Number of Mounting Holes:
3
Mounting Hardware Included:
No
Kit Includes:
Lee Breech Lock Challenger Single Stage Press
1-Breech Lock Die Bushing
Lee Large and Small Safety Prime
Lee Cutter and Lock Stud
Lee Perfect Powder Measure
Lee Chamfer Tool
Lee Primer Pocket Cleaner
Lee Safety Powder Scale
Lee Powder funnel
2 oz Tube Lee Resizing Case Lube
Curious about what else you will need to start reloading with this kit?
We suggest the following; as this kit does
not
include reloading dies, case length gages or shellholders for the Challenger Breech Lock Single Stage Press.
A Lee Case Length Gage for trimming cases
Cartridge specific die set
Shellholder for desired cartridge
Appropriate powder, primers, bullets and cases for your desired cartridge
Reloading Manual
What is the difference between the Anniversary Kit (Item# 423081) and the Challenger Breech Lock Single Stage Press kit (Item# 121744)?
The main difference is the priming feature, the Anniversary kit utilizes a press mounted priming feature, when the Breech Lock Single stage kit utilizes a Lee hand primer and shellholders
Additional Features:
Warranty:
Lee 2 Year Unconditional Warranty
Reviews