LaserMax Guide Rod Laser for Springfield XDM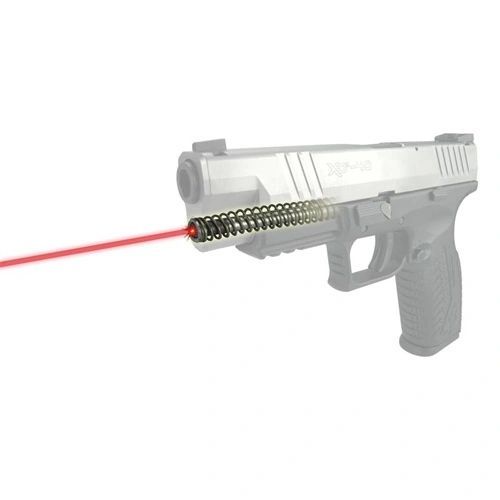 LaserMax Guide Rod Laser for Springfield XDM
Guide Rod Laser for Springfield XDM Description
The highly visible pulsating laser is distinctively LaserMax. Easier to see, it allows for faster target acquisition and re-acquisition. Research proves that the human eye is drawn to pulsating objects - just like caution lights, police and ambulance lights, and even school bus lights.
Activation is easy with this single sided teardrop switching system. With a simple flip of the switch the laser intentionally activates or deactivates. You decide when the laser is needed, leaving no chance for accidental activation alerting an intruder.
Holsterability! With the Guide Rod Laser for the XDM there's no need to have a custom holster. The Guide Rod Laser even fits the standard holster that comes in the package with the XDM.
Specifications:
- For: Springfield XDM Standard 4.5" barrel in 9mm and .40 cal
- Battery Model: LMS-3x393 (readily available silver oxide batteries commonly used in watches)
- Accuracy (10 yards): 1.5" POA
- Laser Operating Temperature: 15-120 F
- Wavelength: 635nm (red-orange)
- Power Output: 5mW (brightest available - blinks for highest visibility)
- Spot Size: at 7 yds 5/16, spot size at 25 yds 3/4.
Please Note:
1. Expect to change your batteries once a year with typical usage.
2. Battery operating temperature is 15F-120F
Reviews