Horton Archery 4x32 Multi-Reticle Crossbow Scope #HOR1101000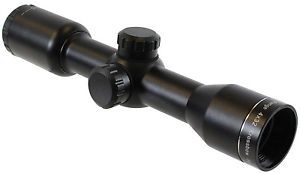 Horton Archery 4x32 Multi-Reticle Crossbow Scope #HOR1101000
Horton 4x32 Mult-A-Range Crossbow Scope completely changes the success rate of bow hunting. The five crosshairs in the scope are set for a different distance depending on your model of crossbow. If you pair this scope with a rangefinder you will know the distance and exactly what crosshair to use at that distance. Sight this crossbow scope in and you cannot fail in the field, unless mother nature beats you. Mother nature make this scope useless because this scope is coated so that it is waterproof, fog proof, and shock proof. Like in rifle scopes, this scope is specifically designed to withstand recoil from your crossbow. If mother nature is trying to mess with you there are windage and elevation adjustments. The lightweight, compact design of this crossbow scope means less weight to carry in the field compared to competitor scopes.
Features
Item Includes: 4x32 Mult-A-Range scope
Reticle: Mult-A-Range, Finish: Matte Black, Magnification: 4x, Eye Relief: 2 1/2", Length: 10"
Scope is waterproof, shockproof, and fogproof.
Mult-A-Range reticle for arrow drop compensation is calibrated at 300fps.
1/4 MOA adjustments and quick focus eye piece
Reviews