Hornady Lock-N-Load Classic Single Stage Press Kit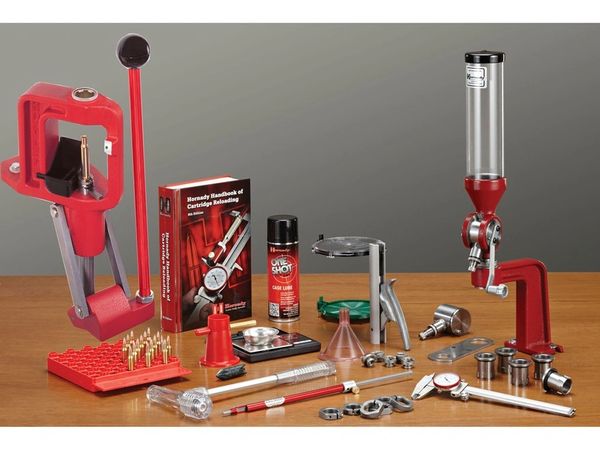 Hornady Lock-N-Load Classic Single Stage Press Kit
The Hornady Lock-N-Load Classic Press Kit is a great kit to get started in reloading. If you are a new reloader you will love the ease of use the Lock-N-Load Classic provides and all of the accessories that are packaged with the kit so you can start turning out accurate, consistent ammunition. If you are a seasoned reloader you will love the fact that this press kit is built to last a lifetime and is backed with Hornady's Lifetime Warranty. The Classic Press is packed full of features, including an angled frame, easy grip handle, positive priming system, primer catcher, and Lock-N-Load Bushings for quick die changing. The Classic Kit includes everything reloaders need to produce high-quality handloads. Dies, bushings, and shellholders sold separately.
Technical Information
Press Type:
Single Stage
Frame Material:
Cast Alloy
Frame Design:
"O" Frame
Frame Offset:
30°
Frame Opening Size:
Handle Location:
Bottom Right
Die Size Accepted:
Standard 7/8"-14 threaded dies
Die Bushing Accepted:
Yes
Die Bushing Brand Used:
Hornady (three included)
Spent Primer Collection System:
Side of ram, open top container
Ram Stroke:
3-3/4"
Ram Diameter:
Priming Feature:
Positive Priming System (PPS), priming arm and large and small primer cups included. Automatic Primer Feeder available, sold separately
Number of Mounting Holes:
2
Mounting Hardware Included:
No
Kit Includes:
Lock-N-Load Classic Single Stage Press, Lock-N-Load Powder Measure, Digital Scale, Handbook of Cartridge Reloading - 8th Edition, 3 Lock-N-Load Bushings, Primer Catcher, Positive Priming System (Small and Large Primer Cups Included, Handheld Priming Tool, Universal Reloading Block, Chamfering and Deburring Tool, Powder Funnel and Trickler, 5.5 oz can of One Shot Aerosol Case Lube
Additional Features:
Notes:
Warranty:
Lifetime
Reviews