Hornady Lock-N-Load Classic Single Stage Press Deluxe Kit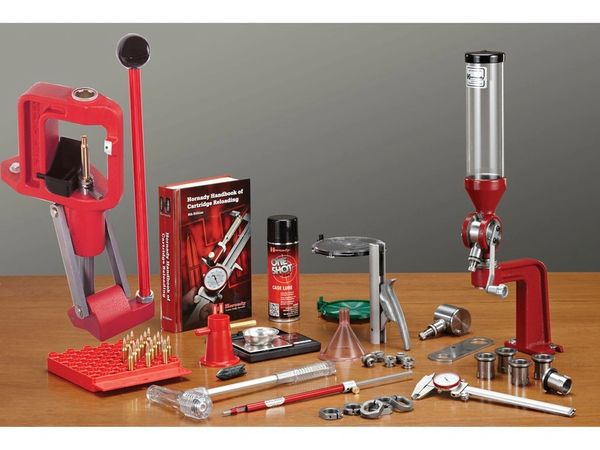 Hornady Lock-N-Load Classic Single Stage Press Deluxe Kit
The Hornady Lock-N-Load Classic Press Deluxe Kit is a great kit to get started in reloading. The Classic Press is packed full of features, including an angled frame, easy grip handle, positive priming system, primer catcher, and Lock-N-Load Bushings for quick die changing. The Classic Deluxe Kit includes everything needed to produce high-quality handloads except reloading dies.
Technical Information
Press Type:
Single Stage
Frame Material:
Cast Alloy
Frame Design:
"O" Frame
Frame Offset:
30°
Frame Opening Size:
Handle Location:
Bottom Right
Die Size Accepted:
Standard 7/8"-14 threaded dies
Die Bushing Accepted:
Yes
Die Bushing Brand Used:
Hornady (three included)
Spent Primer Collection System:
Side of ram, open top container
Ram Stroke:
3-3/4"
Ram Diameter:
Priming Feature:
Positive Priming System (PPS), priming arm and large and small primer cups included. Automatic Primer Feeder available, sold separately
Number of Mounting Holes:
2
Mounting Hardware Included:
No
Kit Includes:
Lock-N-Load Classic Single Stage Press
Digital Scale
Handbook of Cartridge Reloading - 8th Edition
3 - Lock-N-Load Bushings
Primer Catcher
Positive Priming System (Small and Large Primer Cups Included)
Handheld Priming Tool
Universal Reloading Block
Chamfering and Deburring Tool
Powder Funnel
Powder Trickler
Lock-N-Load Powder Measure
5.5 oz Can of One Shot Aerosol Case Lube
6- Sure-Loc Die Lock Rings
Powder Measure Stand
Shellholder Pack (Includes shellholder 1, 2, 5, 16, 35)
Kinetic Bullet Puller
Lock-N-Load Overall Length Gage (Straight-for bolt action rifles)
Vintage Tin Sign
Pistol Rotor and Metering Assembly
Steel Dial Caliper
Additional Features:
Notes:
Warranty:
Lifetime
Reviews