Hornady Lock-N-Load AP Progressive Press - INCLUDES DIGITAL CALIPERS AND SCALE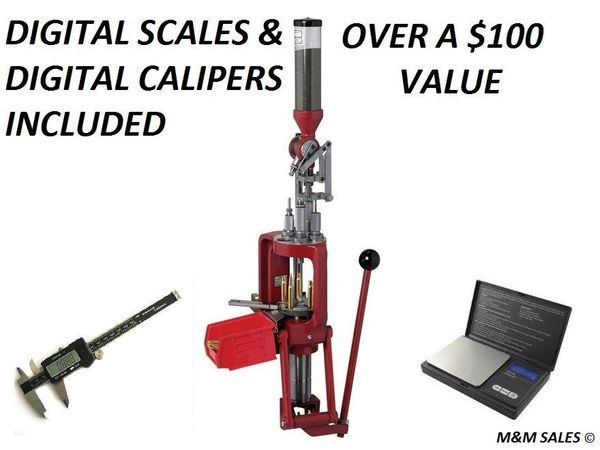 Hornady Lock-N-Load AP Progressive Press - INCLUDES DIGITAL CALIPERS AND SCALE
THIS PRESS COMES WITH THE FREE 500 BULLET MAIL IN REBATE

WE ARE ALSO INCLUDING SOME EXTRAS - A SET OF DIGITAL CALIPERS AND A SET OF DIGITAL SCALES (I HAVE ATTACHED PICTURES) OVER A $100 VALUE
The Hornady Lock-N-Load AP Progressive Press is an automatic 5-station press that is full of innovative features. The press features include; Lock-N-Load quick change technology, fully automatic indexing, 5-station die platform that accepts standard 7/8"-14 threaded dies, and the EZ-ject System that delivers 100% reliable cartridge ejection. This press is capable of loading rifle and handgun cartridges with ease.

Wondering what extra parts to purchase? Well, the press comes COMPLETE with the following items:

Lock-N-Load powder measure
rifle and pistol metering assemblies
case activated powder drop and linkage
cartridge catcher
large and small primer pick-up tubes
5 Lock-N-Load Bushings
So the only thing left to purchase is the easy access shellplate, dies, and any additional bushings you'll need for additional calibers

Features:
Lock-N-Load® Powder Measure
The only system that uses a full size powder measure that can be reset to another charge or powder with the push of a button. The unique inserts can be preset to the charge you use with the caliber you are loading. The most flexible (and economical) powder system available for progressive presses.
Priming System
The primer slide in the shell carrier receives a primer at the top of the stroke and inserts in the case at the bottom of the stroke. The slide stays in perfect alignment, and is easily changed from large to small. Use the included primer pick-up tubes (large and small) to fill the primer tube.
Lock-N-Load® Bushing System
Switch dies from one caliber to another or change out die stations and begin reloading again in seconds. Once set, dies never needs readjusting. Bushing locks standard 7/8"-14 dies rock-solid in perfect alignment.
Case Activated Powder Drop
Get a charge of powder only when a cartridge is in place. Works with any cartridge, pistol to magnum rifle. Can be manually operated to check powder charge. Install the optional ( and separate) Lock-N-Load powder die for the fastest changeover of all progressive presses. Also fits RCBS measurer.
Five-station Die Platform
Five stations allow for all the variables and still let you use your standard dies — most 7/8"-14 dies and 7/8"-14 powder measures will work.
Universal Ejector
Cases are automatically ejected into the included case catcher.
Automatic Indexing
This very important feature automatically advances shells to the next station with the smoothest indexing of any press in this price range, and rotates every half stroke to lessen the chance of powder spillage.
Case Retainer
Quickly and easily remove and/or replace a case from the shell plate at any point in the cycle without extra retaining buttons. Case retainer fits all calibers.
Large Cartridge Catcher
A large capacity catcher comes standard with the Lock-N-Load AP Press. An extra large capacity catcher which holds up to 1/3 more completed cartridges is available as an option.
*Note: Some manufacturers taper crimp dies may interfere with the ejector wire when they are used in station 5. Hornady New Dimension Taper Crimp Dies are designed to work flawlessly in station 5. If you will be using dies other than Hornady, Hornady suggests that you use their powder through expander and install the taper crimp die in the 4th station. Ejector wires are set at the factory and Hornady DOES NOT RECOMMEND adjustment.
*Note:
Shell plates have been re-designed for case ejection. Hornady added a chamfer that allows cases to move easily in and out of the shell plate.
Reviews