Hornady Custom Grade New Dimension Nitride 3-Die Set with Roll Crimp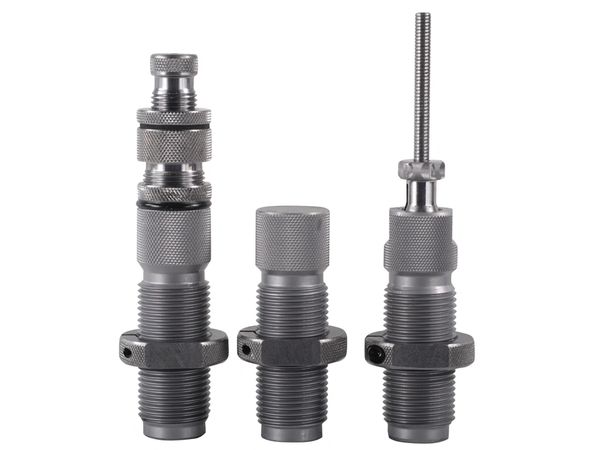 Hornady Custom Grade New Dimension Nitride 3-Die Set with Roll Crimp
Product Information
Features
Titanium Nitride sizing ring means no case lube required!

Easy adjustment for precise sizing, expanding, decapping and bullet seating

Includes 3 Sure-Loc die locking rings
Hornady's CGND sizing dies feature a TiN (Titanium Nitride) coated sizing ring. This ring eliminates case sticking and requires no lubrication. The super hard, smooth coating is used in high-pressure, high-wear tools to reduce abrasion, so it's perfect for resizing pistol brass and won't scratch your cases. Less friction also means less wear on cases, for longer case life. Internal die profiles are also precision machined and polished to a smooth finish that delivers reliable function without case sticking.
The Zip Spindle design on the size die positively locks to eliminate slippage. A series of light threads cut on both the spindle and spindle collet allows incremental adjustments by turning the spindle or you can easily "zip it" up or down for larger movements.
Superior to "ball expanders," the elliptical expander used by Hornady provides extremely smooth neck sizing and significantly reduces friction and case neck stretch. Internal threading prevents it from pulling loose, and the elliptical expander also eliminates the need for a separate expander die for necking-up to the next caliber.
Hornady's seating system holds the bullet, case neck and seating stem in perfect alignment in the sleeve BEFORE the bullet enters the neck of the case. The system includes a floating bullet alignment sleeve, a floating steel seating stem and a built-in crimper for benchrest precision. Bullets are aligned in the sleeve as they enter the die for optimum seating and enhanced accuracy. The built-in crimper gives you the option of crimping without the need for an extra crimp die, saving a station on your press.
Also included, Hornady Sure-Loc lock rings clamp around the entire die applying constant pressure across the threads to hold the ring in place. The locking screw tightens the ring without ever coming into contact with the threads, eliminating possible damage.
Packaged in a plastic storage box with three Sure-Loc Rings. Shellholder sold separately.
Technical Information
Dies Included:
Custom Grade New Dimension Full-Length Sizing Die

Custom Grade New Dimension Case Mouth Expander Die

Custom Grade New Dimension Seater Die with Roll Crimp
Shellholder Included: No
Reviews