Hidden Bird House Security Camera - Night Vision - No Wires -Video & Pictures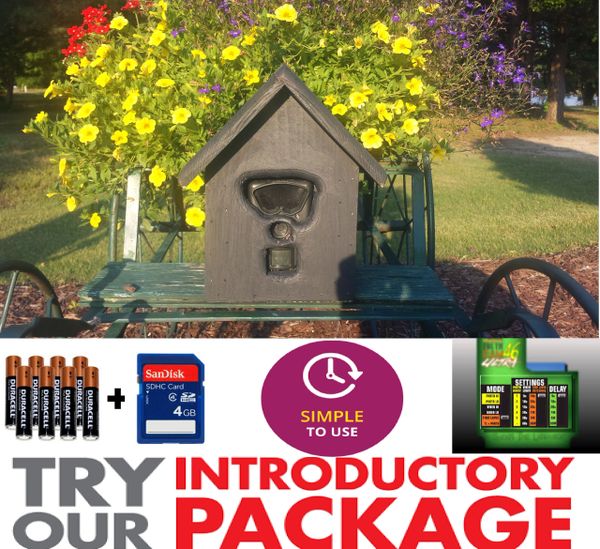 Hidden Bird House Security Camera - Night Vision - No Wires -Video & Pictures
Designed by a security expert this hidden security camera system offers a range of options at a low cost with very easy to use functionality. If you have ever used a camera to take pictures, you can use this system. With a built in easy to use control panel it is as simple as selecting how many pictures or videos you would like it to take once the motion activated camera has been triggered, and selecting high or low resolution.
The camera comes equipped with everything to run it right out of the box including the batteries and SD card that will hold thousand of pictures and hundreds of videos. Unlike other over-priced hidden cameras that requires wires for power and video/picture playback this camera requires NO wires and has a battery life of up to 9 months!
With an on board LED display you can open the camera at anytime and see how many pictures/videos the camera has taken. One you would like to view the picture/video simply remove the SD card from the camera and put it in any computer or SD card reader to view the picture/video. It will also provide you with a wealth of information as to when the picture was take, date, time, temperature, moon phase, etc....
The birdhouses are custom built around this camera to offer a complete package. Built from high grade wood and finished with a custom paint job by a professional you will not have to worry about it lasting in the weather. Stock birdhouses are all painted black, this gives the best concealment for the camera but it can be painted any color you wish. Please give us a call at 910-284-1155 if you would like to have your birdhouse painted any other color.
***Please note that custom colors can carry up to a 5 day lead time***
The TRUTH Cam Ultra Blackout is "Simple to Use", ultra reliable and affordable! All TRUTH Cam Ultras use Simple sliding switches that allow you to select between photo, video, or HD time lapse photos. The Early Detect Sensor has a 45 degree PIR sensor that picks up motion earlier, so you don't miss what is walking in front of your camera. The TRUTH Cam Ultras are super compact at just 3. 875"W x 5.25"H x 2.5"D..
Video Mode Records Audio
HD Time Lapse Plus Photos
Up to 9 Months of Battery Life on 8 AA Batteries (included)

Supports up to a 32GB SD Card (4GB included)
Blackout LED Technology: No Flash, Glow or Light
12V Power Inlet
Reviews