Garrett AT Pro Metal Detector & Pro-Pointer AT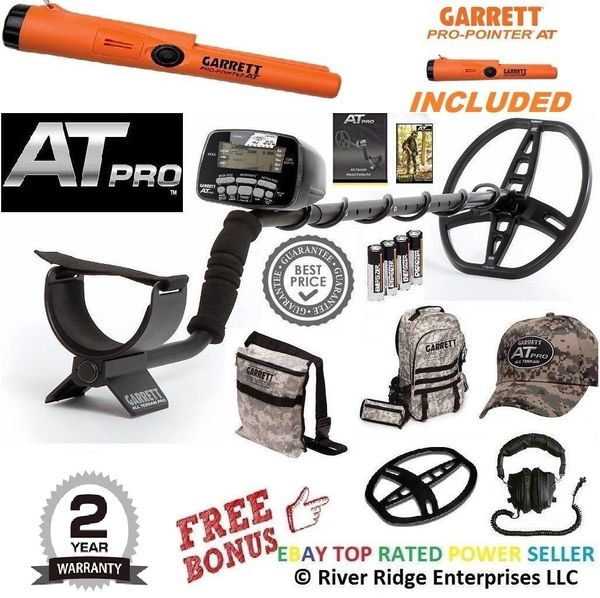 Garrett AT Pro Metal Detector & Pro-Pointer AT
FREE BONUS ITEMS A $100+ VALUE!

Bonus Item: Garrett Camo Backpack
Bonus Item: Garrett Camo AT Pro Cap
Bonus Item: Garrett Camo Digger's Pouch
Bonus Item: 8.5x11" DD Search Coil Cover
8.5x11" PROformance DD Search Coil
Master Sound Headphones
Instructional DVD
Key Features
Pro Mode Audio™: Proportional Audio and Tone Roll Audio™ features allow the user to hear characteristics of a target as they would in a True All-Metal Mode.
High-Res Iron Discrimination™: Use touchpads to set iron discrimination in
one of 40 levels for precise ability to separate good targets from trash.
Digital Target ID: 0 to 99 Target ID scale offers increased ability to distinguish one target's conductivity from another.
Iron Audio™: Allows the user to hear discriminated iron and to alter the detector's mid-tone signal's range
Fast Recovery Speed: Allows greater ability to pick out good targets amongst trash
All Terrain Versatility: Weatherproof housing designed for dusty, humid or wet environments; unit can be submerged to a maximum 10-foot depth.
15 kHz frequency: improved detection of small targets, gold nuggets, jewelry
Ground Balance: automatic and manually adjustable for improved performance
Graphic Target Analyzer™ (GTA): identifies target's conductivity
Continuous Coin Depth Indicator: to determine target depth
Battery Condition Indicator: shows battery life continually
Search Modes (Discrimination Patterns): 6 plus electronic pinpointing
Select from Custom, Zero or Coins in Standard Mode or in Professional Mode

Pinpoint
Key Features (Pro-Pointer AT)
The Pro-Pointer AT provides all terrain versatility for locating and pinpointing metallic targets. It is environmentally protected from the elements and is fully submersible to a maximum depth of 10 feet or 3 meters.
Pro-Pointer AT
Unique Features:
Fully waterproof to 10 feet with orange color for added visibility underwater.

Maximum Sensitivity for improved detection of nuggets and other small targets. Choose from three Sensitivity levels.

Fast Retune: Quick button press instantly tunes out environment or narrows detection field for precise pinpointing of larger targets.

Retuning allows user to quickly:

Shrink detection field to precisely pinpoint large targets

Tune out mineralized ground, wet beach sand, etc.

Help gauge target size/distance

Help identify edges of large target

Pinpoint multiple targets versus one large target signal

Lost Pro-Pointer Alarm: After 5 minutes with no button presses, the pinpointer emits periodic warning chirps.

Automatic power off after 60 minutes of warning chirps; saves batteries.

Simple, single-button operation for Power, Retune, Sensitivity adjustment, and Stealth Mode.

Ruler in Inches and Centimeters molded into side of pinpointer to judge target depth.

Lanyard Attachment Loop molded into side of pinpointer.

New power button is easy to operate even with gloves.
Other Pro-Pointer AT Features:
Patented Proportional Audio/Vibration

Patented scraping blade for searching soil

Twice the battery life of other pinpointers with LED lights.

Pinpointing tip and 360° detection area

LED Flashlight for low light uses.

Includes woven belt holster and 9-volt battery.

Large power button
Reviews