Lee Pro 1000 Progressive Press 300 Blackout - COMPLETE KIT FOR RELOADING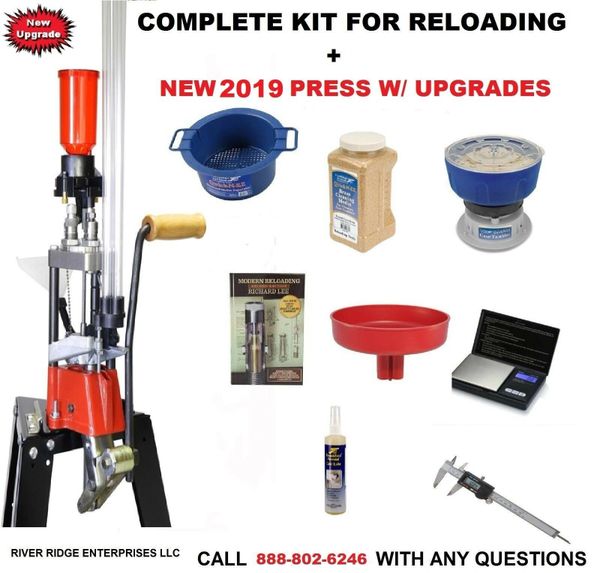 Lee Pro 1000 Progressive Press 300 Blackout - COMPLETE KIT FOR RELOADING
LEE DOES NOT CURRENTLY OFFER A PRESS KIT FOR 300 BLACKOUT - WE MAKE THESE IN HOUSE OURSELVES SETTING THEM UP FOR 300 BLACKOUT - THE PRESS WILL COME READY TO GO FOR 300 BLACKOUT - WILL HAVE THE 300 BLACKOUT DIE SET, TURRET, 300 BLACKOUT SHELLPLATE, 300 BLACKOUT PRIMER FEED & 300 BLACKOUT AUTOMATIC CASE FEEDER. PLEASE ASK ANY AND ALL QUESTIONS/CONCERNS YOU MAY HAVE PRIOR TO ORDERING! WE HAVE 100% FEEDBACK AND WANT OT KEEP IT THAT WAY SO BEFORE ORDERING ASK YOUR QUESTIONS SO THERE IS NO CONFUSION!
                                                                                                                           
WHAT YOU WILL RECEIVE:
CASE COLLATOR
COMPLETE PRESS KIT WITH EVERYTHING NEEDED TO LOAD 300 BLACKOUT
TUMBLER (WILL HOLD UP TO 400 300 BLACKOUT CASES)
MEDIA (6 LBS CORNCOB CLEANING MEDIA FOR TUMBLER)
MEDIA SEPERATOR
SCALES
CALIPERS
CASE LUBE
LEE RELOADING MANUAL

YOU WILL RECEIVE EVERYTHING YOU NEED TO RELOAD ALL IN ONE KIT, MOST EVERYTHING HERE IS BACK ORDERED FROM MOST MANUFACTURES I HAVE EVERYTHING IN STOCK READY TO SHIP. THIS IS THE ONLY KIT I AM OFFERING LIKE THIS SIMPLY BECAUSE THE AVAILABILITY OF STOCK IS HIT OR MISS. THIS IS A GREAT VALUE AND WILL SAVE YOU TONS OF TIME SEARCHING FOR EVERYTHING YOU NEED TO START RELOADING!

THE PRESS WILL COME SETUP READY TO RELOAD - OTHER THAN SETTING UP THE POWDER MEASURE TO YOUR LIKING, ADJUSTING THE BULLET SEATING DEPTH TO YOUR LIKING, AND PUTTING THE TURRET HOLDING THE DIES ON THE PRESS YOU WILL NOT NEED TO DO ANYTHING ELSE!

This press in brand new in the box, not factory reconditioned like others on here. You need nothing else to start reloading 300 BLACKOUT!!! The Lee pro 1000 is an un-real press; We currently load all of our pistol and 223 ammo on this press, doing almost 12 calibers on these presses. The Lee pro 1000 will come with literally everything you need to start reloading 300 BLACKOUT, all you will need is brass, bullets, primers, and powders. With the price of 300 BLACKOUT ammo going through the roof with no stop in sight, this is a great way to save money and assure yourself you will always have ammunition. Also keep in mind this press will do all other pistol calibers, all you need to do is get the 3 die set for which ever caliber you desire. Switching from one caliber to another is very easy with this press, taking 5 minutes or less!

Our experience with Lee customer service has been a truly great experience from day one; they have some of the best customer service representatives and are VERY knowledgeable especially on the Lee Pro 1000. If you ever have any types of problems or just have general reloading questions you can always get through to a representative at Lee, unlike many other companies you may be on hold for an hour. Also they have great how to videos on their website, they are short clips that show you how to do everything imaginable on this Lee Pro 1000 from changing calibers, setting up dies, cleaning the press, changing the shellplate (if desired), literally everything.

THESE PRESSES ARE NOT "FACTORY RECONDITIONED" LIKE OTHERS ON HERE. EVERYTHING IS BRAND NEW IN BOX WITH A 2 YEAR WARRANTY NO QUESTIONS ASKED

Everything you will receive is new in the box. We will only take the turret and the dies out of the box to set them up saving you time. Again if you would like to do this yourself or just don't want us to for whatever reason feel free to let us know.

Below is some information on the press from the manufacturer, feel free to ask me any questions at all.


Product Information
The Lee Pro 1000 Progressive Press is a great press for beginning reloaders or seasoned veterans. Just add a bullet and load a cartridge with each pull of the lever - all other operations are automatic. For added safety, primers and powder are fed only if a case is present. For fine adjustments or for experimenting, an alternate loading sequence allows for loading only one case at a time. Makes learning easy for the first time user. Turrets sold separately.

Warning: Lee recommends to only use CCI or Remington primers. Other primers will not safely work in this priming system.

Technical Information

Press Type: Progressive Press
Auto Index: Yes
Number of Stations: 3
Frame Material: Steel, Cast Aluminum and Polymer
Frame Design:
Frame Offset:
Frame Opening Size:
Handle Location: Bottom Right or Left
Die Size Accepted: 7/8"-14 Threaded Dies
Die Bushing Accepted: No
Die Bushing Brand Used: N/A, Utilizes 3 Hole Turrets (Comes with 1)
Spent Primer Collection System:
Ram Stroke: 3-1/2"
Ram Diameter: N/A
Priming Feature: Uses the Lee Pro 1000 Primer Attachment
Number of Mounting Holes: 3
Mounting Hardware Included: No
Kit Includes:


Caliber specific die set: Carbide 3-Die sets
Pro Auto-Disk Powder Measure with 4 disks
Pro 1000 Primer attachment
Case Feeder attachment with tubes
Appropriate Shell plate


Additional Features:

Comes with the roller handle upgrade
Easily Changed over to other calibers
There are numerous upgrades available for this kit to increase productivity
For reloaders looking to reload more than one caliber this press is easily changed over. All that is needed is an extra turret and the appropriate shell plate carrier (sold separately), some cartridges might require the Lee Auto-Disk Powder Measure Double Disk Kit (Item# 870920)


Warranty: 2 year Unconditional Guarantee
Notes:

Please note that the Pro Auto-Disk powder measure (included as part of the kit) will only work with Lee powder-through expanding dies.
Product information on calipers:
This is a quality stainless steel 6 in. digital caliper with extra large digital display plus molded case. It will measure .001 to 6 in. or .01mm to 150mm. Also calibrates to zero, converts SAE & METRIC with a touch of a button, it has a locking screw, measures inside&outside, thumb roller, step measuring surface and a knife shaped measuring surface. The high quality caliper can be used every day by professionals.
Product information on sales:
The AMW Series is a great durable and compact pocket scale for those seeking an on-the-go high-tech portable scale. The backlit LCD display helps make the numbers viewable and easy to read. The intuitive protective cover provides protection for the scale and the smooth stainless steel weighing surface makes clean up easy.
Reviews