CASE 500 Rounds Federal American Eagle Tactical Tracer Ammunition 5.56x45mm NATO 64 Grain XM856 Full Metal Jacket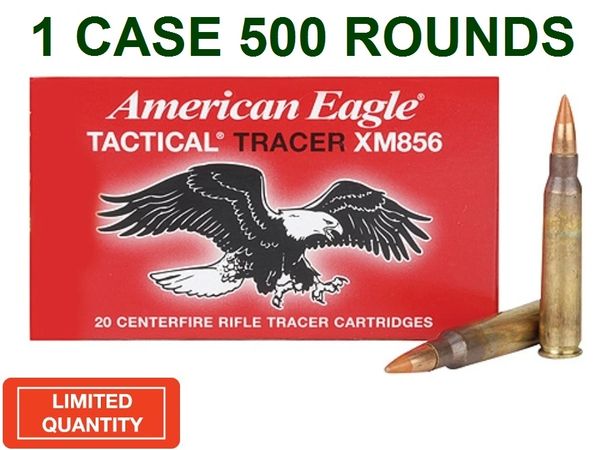 CASE 500 Rounds Federal American Eagle Tactical Tracer Ammunition 5.56x45mm NATO 64 Grain XM856 Full Metal Jacket
WE HAVE A VERY LIMITED QUANTITY OF THIS LEFT.
FEDERAL HAS QUIT PRODUCTION ON THIS AMMO.
IT IS NOW ONLY MADE FOR THE MILITARY.
THIS IS THE MOST POPULAR TRACER EVER MADE
This
Federal
American Eagle Ammunition
is genuine
Lake City Ammunition Plant
overrun ammunition. This tracer ammunition is loaded to military specification and is perfect for providing the shooter with immediate feedback through trajectory visualization by allowing the bullet path to be seen. Tracer ammunition is a great choice for banging away at steel targets, casual plinking and high-volume blasting sessions. The military uses tracer ammunition as an efficient tool for signaling they are effective for use as pre-arranged signals between units and individuals; they also can be used to designate targets. Tracers burn very bright and very hot they may catch surrounding vegetation on fire so they should only be used where there is a limited chance of the shooter starting a fire. This ammunition is loaded with a delayed ignition tracer meaning it will not ignite for 50-100 yards. This means the tracer is not burning up barrels prematurely causing damage to expensive firearms. This ammunition is new production, non-corrosive, in boxer-primed, reloadable Lake City brass cases.
Please Note:
While the 5.56x45mm NATO will fit in a .223 Remington chamber, the 5.56 is a military round that runs at higher pressures than its .223 counterpart and is not recommended to be fired in a .223 Remington chamber.
Technical Information
Caliber: 5.56x45mm NATO
Bullet Weight: 64 Grains
Bullet Style: Orange Tipped XM856 FMJ Tracer
Case Type: Brass
500 Rounds

Ballistics Information
Muzzle Velocity: 3020 fps
Muzzle Energy: 1255 ft. lbs.
Reviews