Bushnell Trophy Cam HD Aggressor Low Glow Trail Camera, RealTree Xtra - 14MP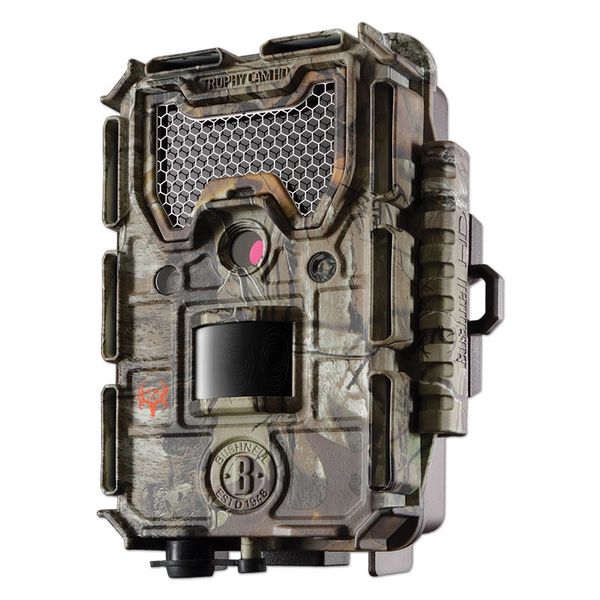 Bushnell Trophy Cam HD Aggressor Low Glow Trail Camera, RealTree Xtra - 14MP
Nature is nasty. It's cold, wet and it has teeth. Fight back with the new Trophy Cam Aggressor HD from Bushnell. It has an extremely aggressive design, removable "ARD" anti-reflection LED cover, strengthened cable lock channel and an improved latch for maximum ruggedness.
Inside is a stunning 14MP camera with a super-fast 0.2-second trigger speed, extended nighttime photo range and 1-year battery life. Available in two Low-Glow IR models and two No-Glow models with Black LEDs that are invisible to game and other hunters, the Aggressor HD is exactly what hunters have been waiting for.
Low-Glow LEDs have a significantly reduced flash signature and make it harder for game and other hunters to spot your camera
Hyper Recovery Speed - time from one image capture until the next image capture takes place in a lightning fast 1 second
Hyper PIR - Motion sensor reaches out to 60 feet or beyond and offers dramatically expanded coverage area over leading competitors lightning fast 1 second.
Every Trophy Cam has the option to automatically embed GPS coordinates to make tracking game movement and camera placement simple lightning fast 1 second
Hybrid Capture Mode - Capture full resolution images and video simultaneously on every trigger.
Field Scan 2X - Time-lapse technology automatically snaps images at preset intervals of one minute to one hour, within the hours of your choice. Now with two available time slots so you can monitor dusk and dawn movement. Because it's not triggered by game, it provides the widest viewing area possible. But unlike all other time-lapse cameras, its simultaneous live trigger will still capture images of anything that walks by.
Removable ARD (Anti-Reflection) cover for the LEDs minimizes visibility to game and other hunters.
Multi Flash Mode - Allows you to adjust flash power for different setups to conserve battery power where applicable.
Reviews