ATN X Sight II 2 HD IR Night Vision 5-20 Rifle Scope Predator Complete Kit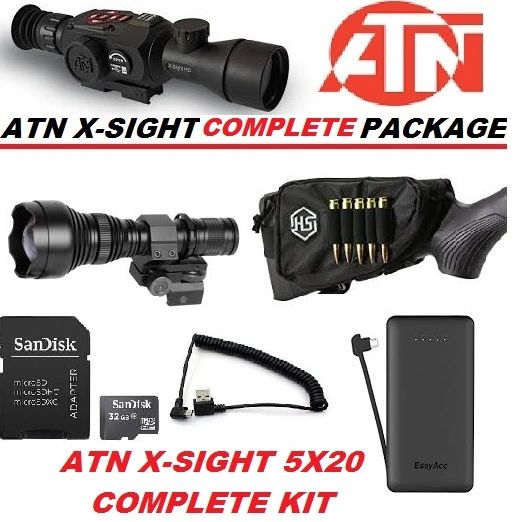 ATN X Sight II 2 HD IR Night Vision 5-20 Rifle Scope Predator Complete Kit
THIS KIT INCLUDES EVERYTHING YOU NEED TO GET YOUR NEW X-SIGHT RUNNING RIGHT OUT OF THE BOX!
THIS KIT IS A MUST IF YOU PLAN ON USING THE SIGHT FOR LONG PERIODS!


KIT INCLUDES:

ATN X-Sight 5-20 (Complete with IR Illumination Light)

Stock Pouch (for mounting the battery to the stock)

32 GB Class 10 Micro SD Card w/ ADAPTER (10 Class for super fast downloading)

2 AMP High Quality USB Coil Cord

10,000 mAh External Battery for 20+ hours of use (also has indication lights for battery state as well as a small LED flashlight. Battery pack can also be used for charging other devices like phones, tablets, iPads and more!

Features
HD Day & HD Night (160lp/mm)
Full HD Video & Photos
Smart Shooting Solution Ballistic Calculator
Smart Range Finder
Smooth Zoom-Electronic zoom
Recoil Activated Video (RAV)
Wi-Fi Allows users to connect your scope to your mobile device and use it as a viewfinder and to control all the features of your
Bluetooth (4.1)
ATN Update Center
Gyroscope and Image Stabilization improves your ability to smoothly spot game
Magnetometer
Accelerometer
E-Barometer
Smooth Zoom
Profile Manager
E-Compass
ATN Obsidian II Core
GPS Geotag
Integral Picatinny Mount
The first digital scope to break the true HD barrier! Gone are the grainy black and white images - the X-Sight II takes digital imaging to a whole new level. Crystal clear images and millions of colors will have you forgetting that you are looking through a digital scope. Immerse yourself in an advanced cockpit like experience. Take advantage of the suite of sensors and advanced processing power for an entirely new shooting experience like never before.
Share the fun with your friends and family with HD video and photos that you can take day or night. No more forgetting to record those "perfect shots" with ATN's RAV (Recoil Activated Video) feature that automatically records videos before and after you pull the trigger. X-Sight II - the most powerful shooting solution on the market that will not break the bank. Includes IR850 Illuminator and Quick User Guide.
Note: With the use of the WiFi, you can stay up to date and download the latest firmware available from ATN.
Technical Information
Generation: Smart HD Optics (digital)
Daylight Use: Yes
Magnification: 5x-20x
Objective Lens: 85mm
Eye Relief: 65mm
Field of View at 1000 Yards: 240'
Angle of View: 5°
Reticle: Multiple Styles and Colors
Adjustment Per Pixel: 1/8"
Built-in IR: No
Sensor: HD 1080p ATN L130 Sensor
Resolution: 160lp/mm
Core: ATN Obsidian II
Display: HD Display
Ports: Micro HDMI, Micro USB, Micro SD
Memory: 4GB
Power: 4 AA type batteries (Lithium Recommended)
Battery Life: 8-12 Hours
SD Card: Up to 64GB
Video Out: 1080p at 30fps
Remote View Finder: ATN Obsidian App (iOS and Android)
Mount: Picatinny
IP Rating: Weather resistant
Dimensions: 11.56"x 3.5"x 3.45"
Weight: 2.5 lbs
Warranty: 2 Years
Reviews