ATN X-Sight 5-20 & 3-14 FAST CHARGE (4) AA Rechargeable Batteries with Charger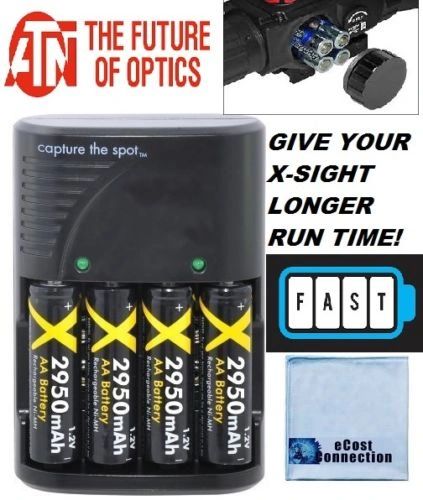 ATN X-Sight 5-20 & 3-14 FAST CHARGE (4) AA Rechargeable Batteries with Charger
If you cant afford our X-Sight Starter package then this cost affordable kit is a must! Not only do these include the highest mAh batteries in the class at 2950 mAh it also comes with a FAST CHARGER at a bargain price. So you will not spend all of your time waiting for the batteries to charge! Rather you are a die hard coyote hunter or hog hunter or just using the X-Sight occasionally you will find that the batteries drain pretty quick! So not only will you be going through batteries at a high cost you will be waiting to use your X-Sight instead of using it in the field! This kit is a must for the X-Sights! Not to mention these were great with any electronics using AA batteries!

2950 mAh

Quick charge AA, AAA and 9 Volt batteries.

European adapter included(for traveling to other countries)

4 AA Rechargeable Batteries

Charger w/ Dual LED indicator when charging.
Product Specifications:
Red indicator light will turns off when the batteries are fully charged.
• Best for digital cameras & high drain electronic devices.
• Quick charge AA, AAA and 9 Volt batteries.
• Dual LED indicator when charging.
• European adapter included
• Controlled by micro chips.
• 100% memory free.
• Worldwide charger 100/240V, European adapter included
Reviews