ATN X-Sight 4K Pro Series Smart HD Digital Day/Night Rifle Scope 5-20x with HD Video Recording, Wi-Fi, GPS, Smooth Zoom, Smartphone Control via iOS or Android app Matte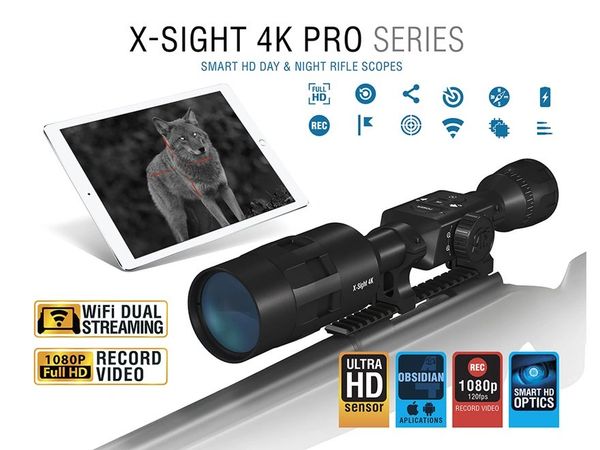 ATN X-Sight 4K Pro Series Smart HD Digital Day/Night Rifle Scope 5-20x with HD Video Recording, Wi-Fi, GPS, Smooth Zoom, Smartphone Control via iOS or Android app Matte
The X-Sight 4K Pro Series Smart HD Digital Day/Night Rifle Scope is the future of rifles scopes, with true HD resolution, vivid colors, 24/7 operation and the ability to record and share every moment. 4K Ultra HD technology, combined with ATN's cutting edge Dual Core Processor, gives you unsurpassed image quality with richer and more vivid color tones, providing you with a visual experience like no other. HD video recording gives you the opportunity to capture your experiences in 1080p full HD. Using an SD card allows you to record your adventures without any additional USB cables, never missing a chance to catch your moment on video.
With the ATN Ballistic Calculator, you can forget about charts and complex reticles. Just enter the environmental data and all the calculations will automatically be performed. This provides you with the opportunity to hit your target, even on the first attempt.
By incorporating a Dual Core Processor, the X-Sight 4K Pro Series is able to provide a much more enhanced experience. You can live stream via WiFi to a mobile device, and record in your scope at the same time without lag or loss of performance. 
Includes:
Eyecup
Sunshade
Standard picatinny 30mm rings
Extended front picatinny 30mm ring
Scope cover
USB cable
Additional Specification:
Sensor: ATN 4K M265 Sensor, 3864 (H) x 2218 (V)
Core: ATN Obsidian IV Dual Core
System Resolution: 600 lp/mm
Micro Display: 1280x720 HD Display
Video Record Resolution: 1080p @ 30/60/120 fps
Ballistic Calculator: Yes
WiFi (Streaming, Gallery & Controls): iOS & Android
Bluetooth: Yes
3D Gyroscope: Yes
3D Accelerometer: Yes
E-Barometer: Yes
Smart Range Finder: Yes
RAV (Recoil Activated Video): Yes
Electronic Compass: Yes
Smooth Zoom: Yes
Night Vision Mode: Yes
Reticles: Multiple patterns & color options
Microphone: Yes
Micro SD Card: From 4 to 256 GB
Micro USB, type C: Yes
IR Illuminator: Yes, included
Reviews