Aimpoint Micro T-1 2 MOA LRP Mount/Spacer, 39 mm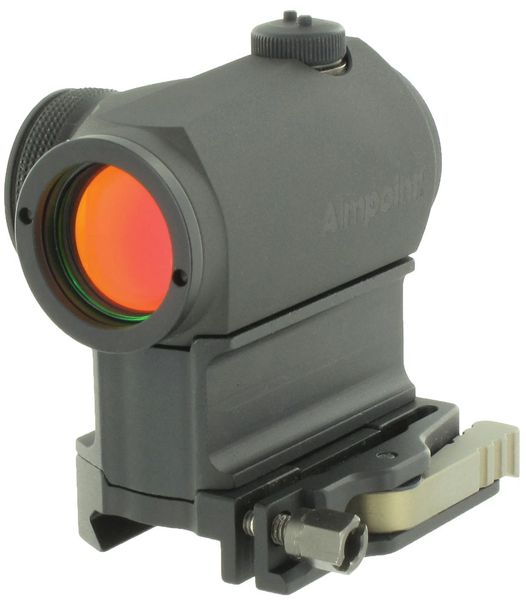 Aimpoint Micro T-1 2 MOA LRP Mount/Spacer, 39 mm
The Aimpoint Micro T-1 Red Dot Sight - 2 MOA LRP Mount 39mm Spacer can be used as a standalone sight or can be attached on top of a scope. Excellent night vision capability and the brightness of the red targeting dot make this one sight that hunters are sure to love.
A total of 13 brightness settings makes this a great sight for any weather conditions. Power is provided by a reliable lithium battery, and that helps make this sight the one to have in order to make the next hunting trip a successful one.
The Micro T-1 can also be used by hunters and sport shooters who need night vision compatibility. The performance of the Micro T-1 is optimized for use with all generations of night vision devices (NVDs), but is ideal for 3rd generation night vision technology. Aimpoints unique coating on the front lens reflects the dots selected frequency of red light at near 100% efficiency to give the highest possible dot brightness with the least amount of energy while other wavelengths in the visible and near-infrared part of the spectrum pass with a minimum of reduction. (84g)- 1X (non-magnifying) parallax free optic- Compatible will all generations of Night Vision Devices (NVD)- 4 night vision compatible settings and 8 daylight settings one extra bright for use with laser protection glasses or in bright desert sunlight- Integral Picatinny-style base allows easy attachment to any rail- Patent pending mount is keyed to the sight body to absorb recoil- New ACET technology allows 50,000 hours (over 5 years) of constant operation with one battery- Available in 2 dot sizes (2 and 4 MOA)- Hard anodized non-reflective finish- Submersible to 80 feet (25 meters)- Precision adjustments for windage and elevation: top of protective caps fits into holes on adjustment screws no other tool required- Use as a standalone sight or piggybacked on larger magnifying, thermal, or night vision optics Specifications:- Length 62mm, (2.4)- Width/height sight only 41 x 36mm, (1.6 x 1.4)- Width/height including mount 62 x 41mm, (2.4x 1.6)- Weight sight only 84g, (3.0oz)- Weight sight with integrated mount 105g, (3.7oz).
Reviews