30 RD GEN II 7.62X39 CPD STAINLESS STEEL MAG BLACK T COATED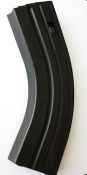 30 RD GEN II 7.62X39 CPD STAINLESS STEEL MAG BLACK T COATED
30 RD GEN II 7.62X39 CPD STAINLESS STEEL MAGAZINE, BLACK FINISH, BLACK FOLLOWER, EXTRA POWER SPRING.
Do they work? Click here:http://www.youtube.com/watch?v=MUu-rG50DRI
*the only reliable 7.62 on the market

*new WEBirdsong Black T Teflon coating exclusively made for C Products Defense
*robotically welded

*RC 65 hardness
*locating posts the insure deminsional integrity before and after welding
*anti-tilt follower
*each magazine is individually checked to insure all critical dimensions are met
*400 series stainless steel
The C Products Defense 7.62 magazines all have the new proprietary "black T" coating. This is not just another pretty face. The black T eliminates the build-up of lacquer inside the magazine from the inexpensive lacquer coat ammo. This magazine actually saves you money!
Coating:
Color: Black.

Coefficient of Friction: 0.08 (Static & kinetic)

Flexibility:

There are no signs of harm or cracks in the coating when bending a steel surface

0.8mm. thick (.032'), radius bend on 3.2mm. (1/8").

Salt spray resistance: 500-1500 hours (according to ASTM 117).

Humidity resistance: Greater than 500 hours with a relative humidity of 98% at 120°F (49°C).

Service temperature:

Continuous 300°F (149°C)

Intermittent 325°F (163°C)
Reviews